Articles by Charlie Hinton
We found 5 results.
---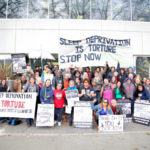 Policy of the Cruel and Absurd: Sleep Deprivation in California's Prisons
Charlie Hinton, Verbena Lea and Willow Katz | Prisoner Hunger Strike Solidarity Coalition – TRANSCEND Media Service, 29 Jan 2018
10 Jan 2018 – In prison isolation units throughout California, guards wake prisoners up every 30 minutes under the guise of suicide prevention. These "security/welfare checks" cause ongoing sleep deprivation. The UN and many sleep and mental health experts have long defined sleep deprivation as a form of torture.
→ read full article
---
Haiti 2017: From Demonstration Election to Electoral Coup
Charlie Hinton | Haiti Action Committee – TRANSCEND Media Service, 27 Feb 2017
Haiti moves into 2017 with a "president" who would never have won an honest election. A tiny number of ruling families backed by the United States, Canada, and France, operating through a United Nations military occupation, has imposed an imperial ruler on an unwilling population through a process they call an "election." Everyone in Haiti knows this, but outside we don't.
→ read full article
---
Duvalier: Dead but Not Gone
Charlie Hinton – Haiti Action Committee, 13 Oct 2014
Jean-Claude (Baby Doc) Duvalier, responsible for thousands of deaths and theft of millions, who moved openly among Haitian elites, died Oct 4 [2014] a free man. Meanwhile former President Jean-Bertrand Aristide, twice elected president with huge majorities only to be overthrown by U.S. backed coups, and who created more schools in a decade than in Haiti's 200-year history, lives under house arrest surrounded by heavily armed police wearing black ski masks.
→ read full article
---
Haiti/Honduras: Same System, Different Players*
Charlie Hinton – TRANSCEND Media Service, 17 Mar 2014
Since the days of the Monroe Doctrine, the U.S. has considered all of Latin America its exclusive "back yard." It's maintained a regionally consistent imperial policy to guarantee subservient governments and business arrangements that submit fully to the discipline of global financial markets at the expense of democracy and human rights.
→ read full article
---
10 Steps to Dictatorship in Haiti
Charlie Hinton - CounterPunch, 23 Dec 2013
Why the Grassroots Movement Is Taking to the Streets against President Michel Martelly
→ read full article
---