Articles by Dan Froomkin
We found 10 results.
---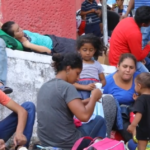 Trump Mocks Rule of Law by Saying Active-Duty Troops Might Open Fire on Migrants
Dan Froomkin | White House Watch – TRANSCEND Media Service, 5 Nov 2018
1 Nov 2018 – Donald Trump said today that he is ordering the active-duty U.S. troops he is sending to the southern border to open fire on migrants if they throw rocks. Trump is using the last days before the midterms to conjure up an "invasion" scenario to rile up his political base.
→ read full article
---
Vindication for Edward Snowden from a New Player in NSA Whistleblowing Saga
Jenna McLaughlin and Dan Froomkin – The Intercept, 30 May 2016
New key player: John Crane, a former assistant inspector general at the Pentagon who was responsible for protecting whistleblowers was forced to become one himself when the process failed.
→ read full article
---
AP: Americans Strongly Support Different, Imaginary Drone Program
Dan Froomkin and Jon Schwarz – The Intercept, 4 May 2015
1 May 2015 – The headline on the Associated Press story is unambiguous: "AP Poll: 60 percent of Americans approve of drone strikes on terrorists." Strangely enough, if you get to the story's ninth paragraph, you learn that the AP's own reporters have a pretty good hunch that the previous eight paragraphs were bullshit.
→ read full article
---
The Word That Cannot Be Uttered (It's Drones)
Dan Froomkin – The Intercept, 27 Apr 2015
Over and over again, Obama called the drone strike that killed two al Qaeda hostages a "counterterrorism operation." White House Press Secretary Josh Earnest: Q: How will this incident affect specifically the U.S. policy, government policy on usage of drones?MR. EARNEST: Well, Jeff, there are certain aspects of this specific operation that I'm not going to be able to discuss, including how this specific operation was carried out … If they cannot even say the word, how can they even begin to tell the truth?
→ read full article
---
Torture If You Must, But Do Not Under Any Circumstances Call the New York Times
Dan Froomkin – The Intercept, 2 Feb 2015
Monday's [26 Jan 2015] guilty verdict in the trial of former CIA officer Jeffrey Sterling on espionage charges — for talking to a newspaper reporter — is the latest milepost on the dark and dismal path Barack Obama has traveled since his inaugural promises to usher in a "new era of openness."
→ read full article
---
12 Things to Keep in Mind When You Read the Torture Report
Dan Froomkin – The Intercept, 8 Dec 2014
The Senate Intelligence Committee's torture report will be released "in a matter of days," a committee staffer tells The Intercept. Should something emerge, here are some important caveats to keep in mind.
→ read full article
---
Senator Who Put Pentagon Papers into Public Record Urges Udall to Do Same with Torture Report
Dan Froomkin – The Intercept, 18 Nov 2014
Mike Gravel is urging Sen. Mark Udall to read the CIA torture report into the Congressional Record.
→ read full article
---
U.S. Falling into the Islamic State's Trap
Dan Froomkin – The Intercept, 22 Sep 2014
There are many reasons the U.S. shouldn't go to war with the Islamic State — and the best one may be because that is exactly what they want us to do.
→ read full article
---
Media Should Be Challenging Arguments for War, Not Baying for Blood
Dan Froomkin – The Intercept, 8 Sep 2014
Pundits and reporters are competing for who can be more scornful of President Obama for his insufficiently militaristic response to IS. They are gleefully parsing Obama's language for weakness, while failing to ask the tough questions about what if any good it could actually accomplish.
→ read full article
---
Squelching Secrets: Why Are Obama's Prosecutors Pursuing John Kiriakou?
Dan Froomkin – Huffington Post, 9 Jul 2012
John Kiriakou is a 14-year CIA veteran who, until his indictment, was best known for publicly rejecting the Bush administration's Orwellian doublespeak about "enhanced interrogation." In a 2007 ABC News interview, Kiriakou became the first person directly involved in the handling of terror suspects to call waterboarding at the CIA's hands what it was — torture.
→ read full article
---