Articles by Dannielle Green
We found 1 results.
---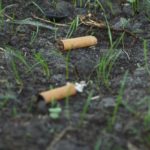 Cigarette Butts Are the Forgotten Plastic Pollution – and They Could Be Killing Our Plants
Dannielle Green – The Conversation, 22 Jul 2019
19 Jul 2019 – Cigarette butts or filters are the most littered item on the planet. An estimated 5.6 trillion cigarettes are smoked each year, out of which two thirds are improperly disposed of. That's [4.5 trillion butts] each year. Since the 1980s, cigarette butts have accounted for 30% to 40% of all litter found in coastal and urban litter clean-ups.
→ read full article
---