Articles by Danny Postel
We found 2 results.
---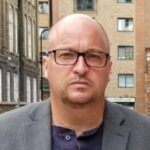 Iran's Role in the Shifting Political Landscape of the Middle East
Danny Postel | New Politics – TRANSCEND Media Service, 27 Sep 2021
The Other Regional Counter-Revolution – The last decade has seen historic political upheavals across the Middle East and North Africa: a tsunami of popular uprisings that have brought down several dictators and led to momentous transformations in political consciousness, if not always to democratic outcomes. But the last decade has also seen a concomitant counter-revolutionary roll-back across the region.
→ read full article
---
The War on ISIS: Views from Syrian Activists and Intellectuals
Danny Postel – Dissent Magazine, 29 Sep 2014
20 Sep 2014 – Conspicuously absent from the debate about ISIS and U.S. intervention—both in the mainstream and in the leftosphere—are Syrian voices. ISIS and U.S. officialdom occupy center stage, leaving the perspectives of Syrian civil society activists and writers out of the equation. While hardly surprising, this omission is troubling.
→ read full article
---