Articles by David Chu
We found 1 results.
---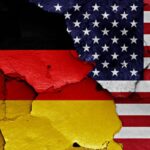 Why Is Germany Committing Suicide? The Same Reasons that the EU/UK Are Being Deindustrialized
David Chu | The Unz Review – TRANSCEND Media Service, 26 Sep 2022
17 Sep 2022 – Why is Germany committing harakiri (or seppuku)? Because the USA ordered them to do so! Is it to emasculate Europe completely so as to make it completely dependent on the US for both energy and technology? The rest of the world is moving towards BRI and BRICS.
→ read full article
---