Articles by David Vine
We found 6 results.
---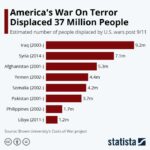 The U.S. 'War on Terror' Has Displaced 37 Million People
David Vine | The Transnational - TRANSCEND Media Service, 14 Dec 2020
7 Dec 2020 – Our goal is to shed light on the 19-year-long "war on terror." Our study focuses on the eight countries where the U.S. government bears significant responsibility for wars it has launched (Afghanistan and the overlapping war in Pakistan triggered by invading Afghanistan, and Iraq); escalated as a major combatant (Libya and Syria); or intensified through drone strikes, battlefield advising, logistical support, weapons sales, and other military aid (Yemen, Somalia, and the Philippines).
→ read full article
---
The Italian Job
David Vine – TomDispatch, 7 Oct 2013
The US military has been shifting its European center of gravity south from Germany, where the overwhelming majority of U.S. forces in the region have been stationed since the end of World War II. At bases in Naples, Aviano, Sicily, Pisa, and Vicenza, among others, the military has spent more than $2 billion on construction alone since the end of the Cold War
→ read full article
---
Forty Years of Heartbreak: Let the People of Diego Garcia Return to their Homeland
David Vine – Huff Post, 10 Jun 2013
Over a weekend of memorials, I was remembering a friend who died of a broken heart. Her death certificate may not say so, but she did. Aurélie Lisette Talate died last year at 70 of what members of her community call, in their creole language, sagren–profound sorrow.
→ read full article
---
The Lily-Pad Strategy
David Vine - TomDispatch, 23 Jul 2012
Unknown to most Americans, Washington's garrisoning of the planet is on the rise, thanks to a new generation of bases the military calls "lily pads" (as in a frog jumping across a pond toward its prey). These are small, secretive, inaccessible facilities with limited numbers of troops, spartan amenities, and prepositioned weaponry and supplies.
→ read full article
---
MARINE PROTECTION AS EMPIRE EXPANSION
David Vine and Miriam Pemberton, 13 May 2009
At the 100-day mark, the new president has tackled an extraordinarily wide-ranging agenda, but one item will need his attention soon: closing the empire of U.S. bases around the world. One place to start is to reverse the marine protection areas that the last president established in the Pacific. In a last-minute bid to salvage […]
→ read full article
---
TOO MANY OVERSEAS BASES
David Vine, 2 Mar 2009
In the midst of an economic crisis that's getting scarier by the day, it's time to ask whether the nation can really afford some 1,000 military bases overseas. For those unfamiliar with the issue, you read that number correctly. One thousand. One thousand U.S. military bases outside the 50 states and Washington, DC, representing the […]
→ read full article
---