Articles by Deborah James
We found 2 results.
---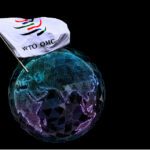 The EU's Digital Trade Rules: Undermining European Policy to Rein in Big Tech
Deborah James | CEPR - TRANSCEND Media Service, 3 Apr 2023
27 Mar 2023 – This report shows how Big Tech companies are working to constrain the ability of EU democratic bodies to regulate their activities in the public interest through "trade" agreements, which are binding and permanent.
→ read full article
---
Trade Pacts and Deregulation: Latest Leaks Reveal Core Problem with TISA
Deborah James - CounterPunch, 6 Jun 2016
30 May 2016 – The 18th round of negotiations on a secret deal to limit public oversight over the services economy starts this week at the World Trade Organization (WTO) in Geneva, and negotiators will have a new item on their agenda: how to deal with the onslaught of leaks of proposals that were supposed to remain locked away in secret until five years after the deal was concluded or abandoned.
→ read full article
---