Articles by Ernesto Londoño and Nicholas Casey
We found 1 results.
---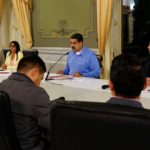 Trump Administration Discussed Coup Plans with Rebel Venezuelan Officers
Ernesto Londoño and Nicholas Casey – The New York Times, 10 Sep 2018
8 Sep 2018 – Establishing a clandestine channel with coup plotters in Venezuela was a big gamble for Washington, given its long history of covert intervention across Latin America. Many in the region still deeply resent the US for backing previous rebellions, coups and plots in countries like Cuba, Nicaragua, Brazil and Chile, and for turning a blind eye to the abuses military regimes committed.
→ read full article
---