Articles by Eugene V. Debs
We found 1 results.
---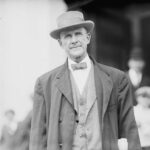 The Canton Speech by Eugene Debs
Eugene V. Debs | Jacobin Magazine - TRANSCEND Media Service, 22 Jun 2020
16 Jun 2020 – Today in 1918, Eugene V. Debs delivered the speech that landed him in prison. However pedestrian for Debs, the offending speech is a study in socialist oration, with memorable lines like "The master class has always declared the wars; the subject class has always fought the battles." In honor of its anniversary we reprint it here in full.
→ read full article
---