Articles by GM Watch
We found 1 results.
---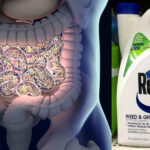 Glyphosate and Roundup Disturb Gut Microbiome and Blood Biochemistry at Doses That Regulators Claim to Be Safe: Study
GM Watch - TRANSCEND Media Service, 8 Feb 2021
27 Jan 2021 – Glyphosate-based herbicides and Roundup disrupt the human gut microbiome and blood biochemistry even at low doses regulators claim are safe, according to a new study. Imbalances in gut bacteria are linked to cancer, Type 2 diabetes, obesity and depression.
→ read full article
---