Articles by Genevieve Leigh
We found 2 results.
---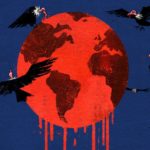 Pandemic Profiteers: Forbes Adds 50 Health Care Moguls to Its List of Global Billionaires
Genevieve Leigh | WSWS - TRANSCEND Media Service, 4 Jan 2021
29 Dec 2020 – For the richest layer of society, the year 2020 has proven to be one of soaring profits and the accumulation of personal wealth on a scale never before seen. The world's billionaires collectively increased their already massive fortunes by more than a quarter (27.5 percent) from April 2020 to July 2020 alone, reaching a record total of $10.2 trillion.
→ read full article
---
The Gig Economy: More Than 160 Million in US and EU Rely on "Independent Work"
Genevieve Leigh | WSWS – TRANSCEND Media Service, 31 Oct 2016
Packaged as creating "options" for workers, as the McKinsey report suggests, the reality is that these new forms of employment provide options and increased profits for the ruling class. The push for more part-time and independent work is an attempt to curb the declining rate of profit, inherent in the capitalist system, by finding new ways to squeeze labor at a lower cost.
→ read full article
---