Articles by Isabel Macdonald
We found 3 results.
---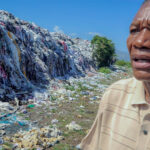 10 Years Ago, We Pledged to Help Haiti Rebuild. Then What Happened?
Isabel Macdonald – In These Times, 20 Jan 2020
12 Jan 2020 – Hundreds of millions in aid went to U.S. corporations and the U.S. military. A fraction went to Haitian institutions.
→ read full article
---
Haiti: The Shelters That Clinton Built
Isabel Macdonald and Isabeau Doucet - The Nation, 25 Jul 2011
In the wake of Haiti's earthquake, the Clinton Foundation promised hurricane shelters that would double as classrooms. But they delivered shoddy, formaldehyde-ridden trailers from the same company that supplied FEMA after Hurricane Katrina.
→ read full article
---
France's Debt of Dishonour to Haiti
Isabel Macdonald – The Guardian, 23 Aug 2010
After Haiti won independence, France extorted compensation for its slave-owning colonists. Now Nicolas Sarkozy must repay it.
→ read full article
---