Articles by Jacqueline Howard
We found 1 results.
---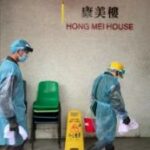 Here's How Long Coronaviruses May Linger on Contaminated Surfaces, According to Science
Jacqueline Howard - CNN, 2 Mar 2020
18 Feb 2020 – China's central bank has taken measures to deep clean and destroy its cash in an effort to contain the virus. It is unknown exactly how long the novel coronavirus can linger on contaminated surfaces and objects, but some researchers are finding clues by studying the elusive behaviors of other coronaviruses.
→ read full article
---