Articles by James A. Lucas
We found 1 results.
---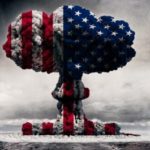 U.S. Regime Has Killed 20-30 Million People since World War II
James A. Lucas – Global Research, 26 Mar 2018
22 Mar 2018 – We must continue our efforts to develop understanding and compassion in the world. Hopefully, this article will assist in doing that by addressing the question "How many September 11ths has the United States caused in other nations since WWII?" This theme is developed in this report which contains an estimated numbers of such deaths in 37 nations as well as brief explanations of why the U.S. is considered culpable. The causes of wars are complex.
→ read full article
---