Articles by Jane Goodall
We found 2 results.
---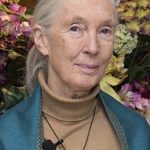 (Português) Jane Goodall Diz que Devemos Deixar os Animais em Paz
Jane Goodall | Vegazeta - TRANSCEND Media Service, 6 Apr 2020
31 mar 2020 – Considerando a origem e as consequências da pandemia de coronavírus, este mês a famosa primatologista Jane Goodall, de 85 anos, protagonizou um vídeo disponibilizado no YouTube em que pede que os animais sejam deixados em paz. "Nosso relacionamento muito próximo com animais silvestres nos mercados ou quando os usamos para entretenimento, desencadeou o terror e a miséria de novos vírus".
→ read full article
---
10 Best Things We Can Do for Animals
Jane Goodall – Yes! Magazine, 4 Apr 2011
Jane Goodall tells us what we can do in our everyday lives to care for the animals we love.
→ read full article
---