Articles by Jeffrey St. Clair and Raouf Halaby
We found 1 results.
---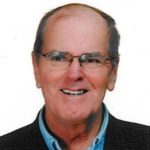 Franklin Lamb (26 Feb 1942 – 13 Jul 2018), Requiescat in Pace
Jeffrey St. Clair and Raouf Halaby – CounterPunch, 8 Oct 2018
From TMS Editor: Franklin Lamb was an active member of the TRANSCEND Network whom I first met at a peace mission to Beirut and Damascus in 2013 along with delegates from around the world including Nobel Peace laureate Mairead Maguire. Franklin was an indefatigable, fearless, selfless fighter for Palestinian rights, peace and social justice in Syria and the Middle East. RIP dear friend and role model. I had no knowledge of his passing till now.
→ read full article
---