Articles by Julian Ryall
We found 3 results.
---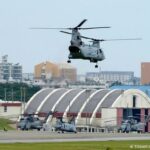 Okinawa Shocked at Cluster of Coronavirus Cases on US Military Bases
Julian Ryall | Deutsche Welle - TRANSCEND Media Service, 20 Jul 2020
The governor of Japan's most southerly prefecture wants a ban on more US troops being sent to the islands. Thirty-two coronavirus cases were confirmed at the US Marine Corps Air Station Futenma on Monday [13 Jul], bringing the total number of cases among troops at installations in the prefecture to 98.
→ read full article
---
How the Hague Ruling against China Could Spell Trouble for Japan
Julian Ryall – South China Morning Post, 18 Jul 2016
Japan has built structures on uninhabited rocks 1,740 km from Tokyo to mark its territory – just like China has done in the South China Sea. The Hague ruling completely delegitimises Japan's claim to those waters. — Stephen Nagy
→ read full article
---
Nuclear Meltdown at Fukushima Plant
Julian Ryall in Tokyo – The Telegraph, 16 May 2011
One of the reactors at the crippled Fukushima Daiichi power plant did suffer a nuclear meltdown, Japanese officials admitted for the first time today [14 May 2011], describing a pool of molten fuel at the bottom of the reactor's containment vessel.
→ read full article
---