Articles by Karen J. Greenberg
We found 3 results.
---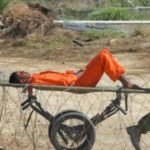 Can Guantánamo Ever Be Shut Down?
Karen J. Greenberg | TomDispatch - TRANSCEND Media Service, 10 May 2021
4 May 2021 – Dealing with the Forever Prison of America's Forever Wars – The Guantánamo conundrum never seems to end. The wrongfulness of indefinite detention as a system created expressly to evade the law — and one that brought ill-repute to the United States globally. Pariah state.
→ read full article
---
Still in the Bush Embrace – What Really Stands in the Way of Closing Guantánamo
Karen J. Greenberg – TomDispatch, 25 Apr 2016
19 Apr 2016 – Can you believe it? We're in the last year of the presidency of the man who, on his first day in the Oval Office, swore that he would close Guantánamo. In case, despite the odds, it should be closed in this presidency, Donald Trump has already sworn to reopen it and "load it up with bad dudes," while Ted Cruz has warned against returning the naval base on which it's located to the Cubans.
→ read full article
---
The Road from Abu Ghraib: A Torture Story without a Hero or an Ending
Karen J. Greenberg - TomDispatch, 28 Apr 2014
It's mind-boggling. Torture is still up for grabs in America. No one questions anymore whether the CIA waterboarded one individual 83 times or another 186 times. The basic facts are no longer in dispute either by those who champion torture or those who, like myself, despise the very idea of it.
→ read full article
---