Articles by Keith Davis
We found 1 results.
---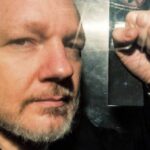 The Stitching-up of Julian Assange and Daniel Ellsberg
Keith Davis | The Australian Independent Media Network – TRANSCEND Media Service, 6 Jan 2020
27 Dec 2019 – So while we sit on our arses and fiddle with our fingers a brave son of Australia is about to be thrown to the wolves. It would pay us well to read, and reflect upon, the following transcript between the President of the United States, his National Security Adviser, and his Attorney General.
→ read full article
---