Articles by Kyodo News
We found 1 results.
---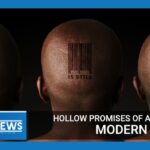 Hollow Promises of a Better Life: Modern-Day Slavery
Kyodo News | Democratic World Federalists – TRANSCEND Media Service, 18 Nov 2019
15 Nov 2019 – Despite the fact that slavery has long been abolished it continues to blight our world, destroying the lives of tens of millions of people. The Global Slavery Index 2018 estimates there to be 40.3 million slaves in the world. Like many of the issues facing humanity, it demands a coordinated consistent approach, cooperation and commitment, not just among governments, but between nongovernmental organizations and multinational corporations.
→ read full article
---