Articles by Laura Ningelgen
We found 1 results.
---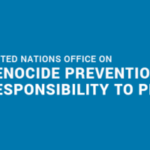 Mass Atrocities and Western Imperialism: Evaluating "Responsibility to Protect"
Laura Ningelgen | E-International Relations – TRANSCEND Media Service, 10 Sep 2018
6 Sep 2018 – Amidst unimaginable human rights violations in countries such as Syria, Yemen and Myanmar, the international community is faced with a moral predicament how to react. In 1999, Kofi Annan stressed the responsibility to protect citizens of states, meaning that even though states are sovereign, they do not have a free ride to endorse or accept the suffering or killing of civilians. The concept of the 'Responsibility to Protect' (R2P), authorised after the UN World Summit 2005 attempted to resolve the contradiction between individual human rights and sovereignty.
→ read full article
---