Articles by Linah Alsaafin
We found 2 results.
---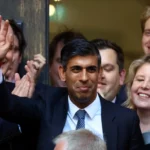 Diversity Debate Rages as Sunak, a British Indian, Becomes UK PM
Linah Alsaafin | Al Jazeera - TRANSCEND Media Service, 31 Oct 2022
25 Oct 2022 – For the first time in UK's history, the country has a non-white as its prime minister. At 42, Rishi Sunak, a Hindu, is the youngest prime minister in more than 200 years. The multimillionaire Oxford-educated former hedge fund boss is married to an Indian billionaire's daughter and some doubt his policies will benefit underrepresented communities.
→ read full article
---
Hunger Strike a Signal to World's Oppressed
Linah Alsaafin – Al Jazeera, 23 Apr 2012
There are currently more than 4,500 Palestinian prisoners in Israeli jails, over 300 of those, in administrative detention. Adnan's hunger strike, which eventually attracted international media attention and solidarity from around the world, inspired other administrative detainees to go on hunger strike. Hana Shalabi went on strike for 43 days before she was released and deported. Five others are now in the Ramleh prison hospital, including Bilal Thiab and Thaer Halahleh, who have not eaten for 52 days.
→ read full article
---