Articles by Louis Kriesberg
We found 2 results.
---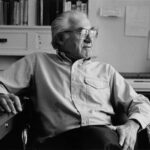 Acting Is a Wonderful Way of Avoiding Feeling Despair – A Guide
Louis Kriesberg | The Transnational - TRANSCEND Media Service, 23 Nov 2020
21 Oct 2020 – So many bad things are occurring every day, it is hard to fight against any one of them, as new ones distract us. Below, I sketch out an approach to taking actions that have a good chance to be effective and satisfying in overcoming objectionable circumstances.
→ read full article
---
Constructive Conflict Applications in Obama's Foreign Policies
Prof. Louis Kriesberg – TRANSCEND Media Service, 9 Nov 2015
The approach taken by Obama vis-a-vis Cuba and Iran are examples of constructive conflict methods that showed positive outcomes, writes sociologist Louis Kriesberg.
→ read full article
---