Articles by Marjorie Kelly
We found 3 results.
---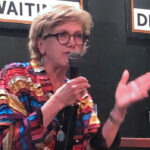 The End of the Corporation? Make the Profit-Maximizing Corporation Obsolete
Marjorie Kelly | Transnational Institute – TRANSCEND Media Service, 9 Mar 2020
Marjorie Kelly makes a bold case for "the end of the corporation"—certainly in its dominant form as a profit-extraction machine designed primarily to enrich shareholders. "What must change is the structural design and ownership of the corporation itself. We need to envisage and create an entirely new concept of the company – a just firm – designed from the inside out for a new mandate: to serve broad wellbeing and the public good. The just firm is the only kind that should ultimately be permitted to exist. The time is coming when society must end the corporation as we know it."
→ read full article
---
The Economy: Under New Ownership
Marjorie Kelly – YES! Magazine, 25 Feb 2013
How cooperatives are leading the way to empowered workers and healthy communities.
→ read full article
---
Can There Be "Good" Corporations?
Marjorie Kelly – YES! Magazine, 31 Dec 2012
When companies are owned by workers and the community—instead of Wall Street financiers—everything changes.
→ read full article
---