Articles by Metta Center for Nonviolence
We found 2 results.
---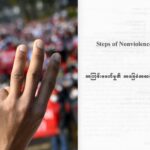 For Activists in Myanmar: A Nonviolence Manual in Burmese
Metta Center for Nonviolence | Waging Nonviolence - TRANSCEND Media Service, 19 Apr 2021
6 Apr 2021 – In the spirit of solidarity and support with activists resisting the coup in Myanmar, the Metta Center offers a Burmese translation of Steps of Nonviolence.
→ read full article
---
Questions the Media Are Not Asking about Norway
Michael N. Nagler and Stephanie N. Van Hook – Metta Center for Nonviolence, 1 Aug 2011
The law enforcement entities dealing with the appalling massacre in and around Oslo last Friday have been understandably preoccupied with the question, did the perpetrator, Anders Behring Breivik, act alone. That is an important question for them, but it does nothing to help the rest of us understand and respond to this tragedy.
→ read full article
---