Articles by Mort Rosenblum
We found 1 results.
---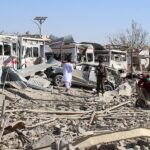 Abandoning Afghanistan
Mort Rosenblum | Reader Supported News - TRANSCEND Media Service, 14 Dec 2020
6 Dec 2020 – Nineteen years and only Allah knows how many lives later – perhaps 500,000 – that still stands. And now Donald Trump has chosen to cut and run, leaving Joe Biden with an ungodly mess in a collapsed state of hapless victims ruled by violent factions that see the USA as a bitter enemy.
→ read full article
---