Articles by Nick Alexandrov
We found 2 results.
---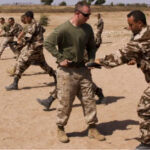 U.S. Military Turns Somalia into a Failed State for Shell and Exxon-Mobil to Steal Its Oil
Nick Alexandrov | Covert Action Magazine - TRANSCEND Media Service, 22 Mar 2021
15 Mar 2021 – "U.S. foreign policy in Somalia has always sided with the wrong side." That's how a young Somali historian studying for his doctorate at Oxford summarized Washington's legacy there. Petroleum industry analysts call Somalia "promising," "one of the last truly unexplored oil frontiers." Shell and ExxonMobil paid Mogadishu $1.7 million in 2019 for 30-year rights to offshore blocks.
→ read full article
---
Reagan Redux – Honduras: Gangsters' Paradise
Nick Alexandrov - CounterPunch, 28 Apr 2014
The thousands of child prostitutes and street children, the prisons teeming with inmates, the scores of slaughtered peasants and dozens of murdered journalists—all indicate the type of nation Washington helps build in a region where it's free to operate unimpeded, revealing which "American values" really drive U.S. foreign policy.
→ read full article
---