Articles by Norimitsu Onishi
We found 3 results.
---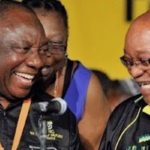 'They Eat Money': How Mandela's Political Heirs Grow Rich Off Corruption
Norimitsu Onishi and Selam Gebrekidan – The New York Times, 23 Apr 2018
16 Apr 2018 – Corruption that has whittled away at virtually every institution in the country. While Mr. Mandela is still revered in the West, his legacy is regarded more critically in South Africa, especially by some young black people. To them, he sold out the country's black masses to the white business elite.
→ read full article
---
'Safety Myth' Left Japan Ripe for Nuclear Crisis
Norimitsu Onishi – The New York Times, 27 Jun 2011
Shika, Japan — Near a nuclear power plant facing the Sea of Japan, a series of exhibitions in a large public relations building here extols the virtues of the energy source with some help from "Alice in Wonderland." "It's terrible, just terrible," the White Rabbit says in the first exhibit. "We're running out of energy, Alice."
→ read full article
---
Culture of Complicity Tied to Stricken Nuclear Plant
Norimitsu Onishi & Ken Belson – The New York Times, 2 May 2011
In 2000, Kei Sugaoka, a Japanese-American nuclear inspector who had done work for General Electric at Daiichi, told Japan's main nuclear regulator about a cracked steam dryer that he believed was being concealed. If exposed, the revelations could have forced the operator, Tokyo Electric Power, to do what utilities least want to do: undertake costly repairs. What happened next was an example, critics have since said, of the collusive ties that bind the nation's nuclear power companies, regulators and politicians.
→ read full article
---