Articles by Ognian Kassabov
We found 1 results.
---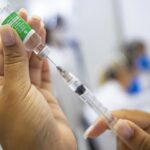 What the Vaccine Debacle Tells Us about Predatory Capitalism
Ognian Kassabov | Al Jazeera, 1 Mar 2021
The botched COVID-19 vaccination campaign is a great illustration of why our current capitalist system does not work. One foundational myth of global capitalism is that private entrepreneurship is the only effective source of innovation and progress. But Big Pharma has long demonstrated this is not necessarily so.
→ read full article
---