Articles by Pía Figueroa
We found 6 results.
---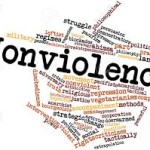 Education for Peace and Nonviolence in Times of Crisis
Pía Figueroa | Pressenza - TRANSCEND Media Service, 23 Nov 2020
21 Nov 2020 – Doris Balvín, senior researcher at the New Civilization Humanist Studies Center in Lima, Peru and a specialist in social ecology, speaks about education for peace and nonviolence in times of social and ecological crisis.
→ read full article
---
Human Rights Yes, Bombing No
Pia Figueroa – InDepth News, 27 Jun 2011
Today it is not the state-owned media corporations that form public opinion, but transnational media companies at the service of multinationals in diverse sectors such as banking, industry and the military. In this context and in order to serve the media corporations that control the global information market, "journalistic objectivity" ends up ignoring inequality, unemployment, exploitation, racism, discrimination, intolerance and the day to day violence experienced by millions of human beings.
→ read full article
---
Chile: Von Baer Privatises Quinoa
Pía Figueroa – Pressenza Int'l Press Agency, 23 May 2011
The privatisation of Chilean seed has become a scandal and paves the way for the arrival of genetically modified products. After the realisation that, as well as the North American company Monsanto, the patents for Chilean crops are in the hands of people linked to the government who will now benefit from the privatisation of seed, as in the case of Ena Von Baer's father.
→ read full article
---
United Nations Emits Report of "Harmony with Nature" Bolivia's Initiative
Pía Figueroa – Pressenza International Press Agency, 6 Sep 2010
"The present technological era has meant an impoverishment of the relationship of human beings with nature". This is one of the conclusions of the report "Harmony with Nature" that United Nations General Secretary will present to the General Assembly as a Bolivian initiative, that counts with the sponsorship of other 61 countries.
→ read full article
---
The Whale-Saving Petition
Pía Figueroa – Pressenza International Press Agency, 5 Jul 2010
The proposal to legalize whale killing went down in flames in recent Morocco meeting. In a few short weeks, the biggest whale-saving petition in history, signed by an extraordinary number of 1.2 million of worldwide people, will be delivered directly to the key delegates at the International Whaling Commission meeting.
→ read full article
---
CHILE: LIFE IN THE SQUARE AFTER THE EARTHQUAKE
Pía Figueroa - Pressenza, 9 Mar 2010
Interesting relationships are developing among the residents of different Chilean cities and neighbourhoods only days after the earthquake that left many families unable to return to their homes. Squares have been turned into camping sites where people can cook together, take a bath and lead a community life that did not exist before.A new solidarity, […]
→ read full article
---