Articles by Pierre Labossiere
We found 3 results.
---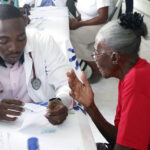 Resisting COVID-19 in Haiti
Pierre Labossiere | Haiti Action Committee -TRANSCEND Media Service, 20 Apr 2020
The struggle against the coronavirus is a world-wide fight. It demands that we stand in solidarity with each other, across all borders. Despite the lack of coverage, the people of Haiti are confronting a dual crisis. Their struggle against a corrupt and repressive system and now COVID-19 demands strong advocacy and support. It is essential that we see their struggle as our own.
→ read full article
---
Haiti Elections: Human Rights and Alternative Media Delegation Report
Pierre Labossiere and Margaret Prescod – TRANSCEND Media Service, 12 Dec 2016
Observations of voting activities on the day of the election lead to the conclusion that there was widespread organized voter suppression which impacted the reported election results. Eligible voters were kept from voting, this negatively impacted the number of voters declared to have cast their ballots.
→ read full article
---
The People of Haiti Are Under Attack as They Fight for Their Liberation!
Pierre Labossiere | Haiti Action Committee – San Francisco Bay View, 5 Dec 2016
30 Nov 2016 – The following is a compilation of two breaking news reports that have come in from Haiti within the past two days. Even as we speak, bullets are flying and people are dying in the streets. The presidential elections on Nov. 20 were a repeat of the October 2015 fraudulent elections.
→ read full article
---