Articles by Raúl Zibechi
We found 7 results.
---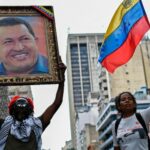 (Castellano) Parlamento de los Pueblos en Ecuador: Una Minga para Cambiar el País
Raúl Zibechi – La Jornada [Mexico], 4 Nov 2019
26 oct 2019 – Quito. El austero edificio de la CONAIE hierve con centenares de delegados y delegadas de comunidades y pueblos, de barrios populares y sindicatos, para debatir los rumbos del movimiento popular después de doce días de un levantamiento que marca a fuego la historia y la vida política del país andino.
→ read full article
---
(Italiano) La scottante attualità di Fanon
Raúl Zibechi, Commune Info – TRANSCEND Media Service, 14 Sep 2015
Alla decolonizzazione del pensiero critico e delle pratiche di emancipazione ispirate dallo psichiatra nero della Martinica, Raúl Zibechi ha dedicato il suo ultimo libro. In questo articolo riassume le cinque principali ragioni della straordinaria attualità politica della lezione antirazzista e antieurocentrica di Fanon, un pensatore lontano dall'accademia che ha messo la vita intera al servizio della lotta anticoloniale in Algeria e nel mondo.
→ read full article
---
(Castellano) América Latina: La Obstinada Potencia de la Descolonización
Raúl Zibechi – Centre Tricontinental, 17 Oct 2011
La disputa entre movimientos y gobierno, que en Bolivia se va a mantener largo tiempo, es la mejor noticia incluso para los gobernantes que quieren cambios de verdad y no sólo estar aferrados a un cargo. Decir Bolivia, aún hoy, es decir que todavía es posible que los de más abajo decidan. En el acierto o en el error. ¿No es esa la descolonización?
→ read full article
---
(Castellano) Sudamérica, Una Década que Cambió el Continente
Raúl Zibechi – Americas Program, 17 Jan 2011
En muchos sentidos, la primera década del siglo XXI es la contracara de la última del XX. La lista de cambios es tan larga como trascendente. Resta saber si se trata de un paréntesis o de un nuevo comienzo. En todo caso, la región no volverá a ser lo que fue.
→ read full article
---
Latin America: The Decade that Transformed a Continent
Raúl Zibechi – Americas Program, 17 Jan 2011
In many ways, the first decade of the 21st Century was the flip side of the last decade of the twentieth century in South America. There have been numerous and significant changes. We still don't know if it's a glitch in time or a new beginning. In any case, the region will never be the same.
→ read full article
---
(SPANISH) EL BLOQUE LATINOAMERICANO Y CARIBEÑO
Raúl Zibechi – TeleSur, La Jornada, 2 Mar 2010
La Declaración de Cancún, suscrita por los 32 presidentes (con la única ausencia de Honduras), señala que el objetivo del nuevo organismo es "profundizar la integración política, económica, social y cultural de nuestra región", defender el "multilateralismo" y "pronunciarse sobre los grandes temas y acontecimientos de la agenda global".La creación de la Comunidad de Estados […]
→ read full article
---
MASSACRE IN THE AMAZON: THE US-PERU FREE TRADE AGREEMENT SPARKS A BATTLE OVER LAND AND RESOURCES
Raúl Zibechi - americas.irc-online.org, 19 Jun 2009
On June 5, World Environment Day, Amazon Indians were massacred by the government of Alan Garcia in the latest chapter of a long war to take over common lands—a war unleashed by the signing of the Free Trade Agreement (FTA) between Peru and the United States. Three MI-17 helicopters took off from the base of […]
→ read full article
---