Articles by Rainforest Rescue
We found 3 results.
---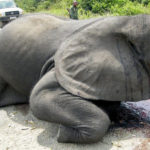 Tell the EU to Ban the Ivory Trade – NOW!
Rainforest Rescue – TRANSCEND Media Service, 11 Mar 2019
The EU sees itself as a conservation leader, yet it has a blind spot for the ivory business. The trade in "antique" ivory remains legal in the EU – a convenient loophole to launder tons of freshly poached tusks and export them to Asia. Tell the EU to kill the trade – before the trade kills the last elephants!
→ read full article
---
Haitian Peasants Say: Monsanto, Get Out of Haiti!
Rainforest Rescue – TRANSCEND Media Service, 19 Jul 2010
Monsanto is trying to offer the Haitian Ministry of Agriculture a fatal gift. The Haitian peasants will receive 475 tons of its seeds. This worsens the farmers' situation. The organisations of La Via Campesina have expressed their strong disagreement and have demonstrated during the World Environment Day (Juny 4th) to say "no to Monsanto's mortal gift which is a new earthquake hitting the agricultural sector". They are asking your support to protect their food sovereignty. Help them today by signing a personal letter to the Haitian authorities.
→ read full article
---
STOP MASSIVE WORLD BANK (IFC) SUPPORTED EXPANSION OF PACIFIC INDUSTRIAL TUNA FISH HARVEST
Rainforest Rescue, 15 Oct 2009
Over-fishing comes to Madang, Papua New Guinea, as local peoples prepare to resist 10 tuna canneries. Support thousands of indigenous South Pacific coastal peoples as they are peacefully protesting right now! A tranquil village culture — living simply but well from small-scale fishing — will be decimated.TAKE ACTION NOW – PLEASE!
→ read full article
---