Articles by Richard Silverstein
We found 6 results.
---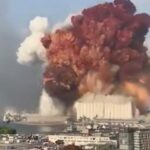 BREAKING: Israel Bombed Beirut
Richard Silverstein | Tikun Olam תיקון עולם - TRANSCEND Media Service, 10 Aug 2020
4 Aug 2020 – Exposure: Israel blew up a Hezbollah ammunition depot in the port of Beirut, but did not know in advance that a nearby warehouse contained a huge amount of ammonium nitrate. The government, overwhelmed by the scale of the carnage and destruction, was quick to deny Israeli involvement – even before anyone in Lebanon blamed Israel.
→ read full article
---
Israel's Early Nuclear Deceit Damages Iran Nuclear Talks Today
Richard Silverstein – Middle East Eye, 27 Apr 2015
Instead of demonising Iran and treating it as a pariah state, wouldn't there be more to gain from collaboration and cooperation? American Jewish money built Israel's bomb.
→ read full article
---
Charlie Hebdo Massacre: a Tragic, Universal Failure
Richard Silverstein, Tikun Olam-תיקון עולם – TRANSCEND Media Service, 12 Jan 2015
Imagine if Charlie Hebdo drew a big-nosed Moses sitting amid buckets of cash. Does no one understand why if one is wrong the other is as well? In fact, a Hebdo cartoonist derided Nicholas Sarkozy's son for "doing well" by converting to Judaism to marry a wealthy Jewish heiress. The cartoonist was fired. But cartoonists ridiculing the Prophet are now folk heroes.
→ read full article
---
"Muslim Rage" and the Hypocrisy of the Western Liberal Elite
Richard Silverstein, Tikun Olam – TRANSCEND Media Service, 18 Aug 2014
The western liberal élite has a problem with Muslims, in particular with Muslim Rage, as Newsweek's cover called it. It reminds me of that priceless, old misogynist quotation from Sigmund Freud: women–what do they want? What do Muslims want? They want to be part of the modern world yet they import these age-old hatreds that are so–well, primitive and unmodern. Muslims aren't ready for civilization-primetime.
→ read full article
---
Terror Delisting the MEK Is a Cynical Sham
Richard Silverstein – The Guardian, 24 Sep 2012
The dissident group's lavish lobbying has paid off: hoping to look tough on Iran, the Obama administration has enlisted the MEK in a proxy war. US officials leaked to several news outlets Friday [21 Sep 2012] an impending decision by the Obama administration that it intends to remove the Iranian dissident group Mujahadeen e-Khalq (MEK) from the treasury department's terror list.
→ read full article
---
Netanyahu's Secret War Plan: Leaked Document Outlines Israel's "Shock and Awe" Plan to Attack Iran
Richard Silverstein – TRANSCEND Media Service, 3 Sep 2012
In the past few days, I received an Israeli briefing document outlining Israel's war plans against Iran. The document was passed to me by a high-level Israeli source who received it from an IDF officer. My source, in fact, wrote to me that normally he would not leak this sort of document, but:
→ read full article
---