Articles by Rosa Freedman
We found 1 results.
---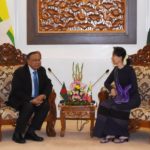 Myanmar and Bangladesh Strike a Shameful Deal on Rohingya Refugees
Rosa Freedman – The Conversation, 27 Nov 2017
23 Nov 2017 – Many Rohingya people who have fled the ethnic cleansing in Myanmar are now living as refugees in Bangladesh. And now, the two countries have reportedly struck a deal to return them home. Returning Rohingya people to the hands of their persecutors violates international law. This deal comes just days after Ratko Mladic was sentenced to life imprisonment for his role in the Srebrenica massacre.
→ read full article
---