Articles by Susie Day
We found 1 results.
---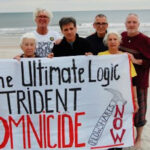 Breaking! Kings Bay Plowshares 7 Story Is Highly Unprofessional!
Susie Day – CounterPunch, 18 Nov 2019
6 Nov 2019 – Dear Mainstream News Media-MSM: After the verdict came down on October 24, Bill Quigley, a Plowshares' attorney, stated that the defendants had spent two years in prayerful practice before deciding to carry out this action. You're right, MSM, this story is simply not newsworthy. Then, when you add in the fact that these seven are well past middle age – the youngest 57; the oldest a few days away from 80 – and that they face a possible 20 years, which could amount to a death sentence in prison, you've got a really unsexy story there. So thanks for catching that.
→ read full article
---