Articles by The Daily Star, Bangladesh
We found 2 results.
---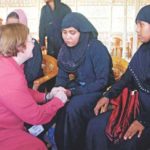 Wake Up and Stop Rohingya Abuses
The Daily Star, Bangladesh | IPS – TRANSCEND Media Service, 5 Mar 2018
27 Feb 2018 – No one would realise better than a woman how it feels when a child is snatched away from the arms of a mother and slaughtered, a man is murdered before the eyes of his wife, or a girl is raped. That is what happened to countless Rohingya women back in Rakhine State of Myanmar.
→ read full article
---
Bangladesh and the Rohingya Influx: Misframed Facts, Prejudiced Responses
C R Abrar – The Daily Star, Bangladesh, 4 Sep 2017
1 Sep 2017 – Rohingyas of northern Arakan are facing yet another round of armed atrocities. Not only are they at the receiving end of indiscriminate use of bullets, bayonets and firing from helicopter gunships; their homes, hearths, livestock, crops and businesses are being consumed by bellowing fire deliberately lit by the Burmese security forces and their Rakhine cohorts.
→ read full article
---