Articles by Thomas C. Mountain
We found 2 results.
---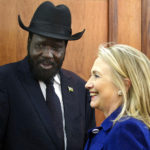 A Brief History of the CIA's Dirty War in South Sudan
Thomas C. Mountain | Intrepid Report – TRANSCEND Media Service, 5 Aug 2019
30 Jul 2019 – With the CIA's dirty war in South Sudan winding down, it's time to take a brief but comprehensive look at the origins and history of this most secret of Pax Americana crimes in Africa. It is in the national interests of the USA to deprive China of access to African energy resources, with the Sudanese oil fields being the only Chinese owned and operated in Africa.
→ read full article
---
Crocodile Tears As Food Aid Blockade Continues in Horn of Africa
Thomas C. Mountain – Foreign Policy Journal, 25 Jul 2011
As predicted here in Foreign Policy Journal, crocodile tears have begun to run down the faces of the likes of Anthony Lake, CIA director nominee turned Executive Director of UNICEF, as some 15 million people starve in the Horn of Africa. Tony Lake appeals to the world for tens, no, hundreds of millions of dollars to save the starving people of Ethiopia and Somalia, never once telling you that the majority, some 10 million, are in the Ogaden and Oromia regions and being subjected to a Western-funded food aid blockade by the Ethiopian military.
→ read full article
---