Articles by Tracy McVeigh
We found 2 results.
---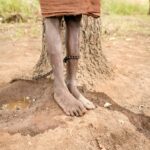 'All We Can Offer Is the Chain': The Scandal of Ghana's Shackled Sick – Exposé
Tracy McVeigh – The Guardian, 17 Feb 2020
3 Feb 2020 – For the families of Ghanaians with mental health or substance abuse issues, shackling their loved ones can seem the only option, as faith healers compete to fill the mental health void.
→ read full article
---
Cheering German Crowds Greet Refugees after Long Trek from Budapest to Munich
Emma Graham-Harrison, Patrick Kingsley and Tracy McVeigh – The Guardian, 7 Sep 2015
As Europe's politicians continue to bicker, desperate travellers are welcomed and fed as they arrive at German city.
→ read full article
---