Articles by Watson Institute/Brown University
We found 2 results.
---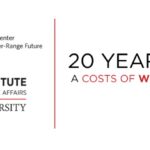 The Costs of War to U.S. Allies since 9/11
Jason W. Davidson | Watson Institute/Brown University – TRANSCEND Media Service, 17 May 2021
12 May 2021 – The US allies in the post-9/11 wars have borne significant human and budgetary costs. They were the military operations in Afghanistan and Iraq that have grown from the "Global War on Terror." While the Afghan and Iraqi governments incurred the highest human costs, this research paper focuses on the human and financial contributions of European and other allies of the U.S.
→ read full article
---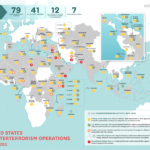 United States Counterterrorism Operations, 2018-2020
Watson Institute/Brown University | Costs of War - TRANSCEND Media Service, 8 Mar 2021
Feb 2021 – From 2018 to 2020, the United States government undertook what it labeled "counterterrorism" activities in 85 countries. The map illustrates countries in which the U.S. government conducted operations it explicitly described as counterterrorism, in an outgrowth of President George W. Bush's "Global War on Terror."
→ read full article
---