(Português) A Rara Coragem de Bradley Manning
ANGLO AMERICA, MILITARISM, JUSTICE, ORIGINAL LANGUAGES, 4 Mar 2013
Marjorie Cohn, CounterCurrents – Carta Maior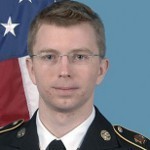 Militar americano envolvido no episódio do WikiLeaks anunciou que se declarará culpado em 10 das 22 acusações que lhe foram feitas, entre as quais passar informação a pessoa não autorizada. Mas manterá a declaração de "inocente" nos demais 12 crimes de que é acusado, como os de espionagem a favor do inimigo, cuja pena é a prisão perpétua.
Pela primeira vez Bradley pôde falar publicamente sobre o que fez e porquê. As suas ações, agora conhecidas pelas suas próprias palavras, mostram um jovem soldado muito corajoso.
Quando tinha 22 anos, o cabo Bradley Manning entregou documentos secretos à WikiLeaks. Entre esses documentos, o vídeo conhecido como "Collateral Murder" [Assassinato Colateral], em que se veem militares norte-americanos num helicóptero Apache, assassinando 12 civis desarmados, dos quais dois eram jornalistas da Agência Reuters, e ferindo duas crianças.
"Supus que, se o público, principalmente o público norte-americano, assistisse àquele vídeo, talvez surgisse algum debate sobre os militares e a nossa política exterior em geral, como era aplicada ao Iraque e ao Afeganistão" – disse Bradley diante do tribunal militar que o está a julgar, durante as formalidades da sessão em que se declarou culpado em algumas das acusações. – "Supus que o vídeo pudesse levar a sociedade norte-americana a reconsiderar a necessidade de envolver-se em operações de antiterrorismo, sem nada saber sobre a situação humana das pessoas contra as quais disparamos todos os dias."
Bradley disse que se sentiu frustrado por não ter conseguido convencer os seus superiores a investigar os factos que se veem no vídeo "Assassinato Colateral" e outras imagens e escritos de "pornografia bélica" que havia nos arquivos que entregou à WikiLeaks.
"Fiquei muito perturbado, quando não vi qualquer reação diante de crianças feridas." O que mais perturbou Bradley foram os soldados que se veem no vídeo, que "parecem não dar valor algum à vida humana e referem-se [aos alvos dos tiros], como "filhos da puta mortos" [dead bastards].
Pessoas que se aproximaram para resgatar os feridos também foram alvejadas e mortas. A ação dos soldados norte-americanos que se veem naquele vídeo é tipificada como crime de guerra nos termos das Convenções de Genebra, que proíbe de disparar contra civis; impedir resgate e socorro de feridos; e destruição de cadáveres para impedir que sejam identificados.
Ninguém da WikiLeaks pediu ou o estimulou a dar os documentos, disse Bradley. "Ninguém associado com a Organização WikiLeaks (WLO) pressionou para que lhes desse mais informação. A decisão de entregar documentos à WikiLeaks foi exclusivamente minha."
Antes de fazer contacto com a WikiLeaks, Bradley tentou interessar o Washington Post a publicar os documentos, mas não recebeu qualquer resposta do jornal. Tentou fazer contacto também com o New York Times, sem sucesso.
Durante os primeiros nove meses de detenção, Bradley foi mantido em cela solitária – o que caracteriza tortura, dado que o isolamento pode levar a alucinações, catatonia e suicídio.
Bradley manteve a declaração de "inocente" nos demais 12 crimes de que os promotores do tribunal militar o acusam, dentre outros o de espionagem a favor do inimigo e colaboração com o inimigo, cuja pena é a prisão perpétua.
As ações de Bradley Manning fazem lembrar o que fez Daniel Ellsberg, que divulgou os "Papéis do Pentágono", no qual se expunham as mentiras do governo dos EUA e que apressaram o fim da Guerra do Vietname.
Tradução: http://www.esquerda.net.
Go to Original – cartamaior.com.br
DISCLAIMER: The statements, views and opinions expressed in pieces republished here are solely those of the authors and do not necessarily represent those of TMS. In accordance with title 17 U.S.C. section 107, this material is distributed without profit to those who have expressed a prior interest in receiving the included information for research and educational purposes. TMS has no affiliation whatsoever with the originator of this article nor is TMS endorsed or sponsored by the originator. "GO TO ORIGINAL" links are provided as a convenience to our readers and allow for verification of authenticity. However, as originating pages are often updated by their originating host sites, the versions posted may not match the versions our readers view when clicking the "GO TO ORIGINAL" links. This site contains copyrighted material the use of which has not always been specifically authorized by the copyright owner. We are making such material available in our efforts to advance understanding of environmental, political, human rights, economic, democracy, scientific, and social justice issues, etc. We believe this constitutes a 'fair use' of any such copyrighted material as provided for in section 107 of the US Copyright Law. In accordance with Title 17 U.S.C. Section 107, the material on this site is distributed without profit to those who have expressed a prior interest in receiving the included information for research and educational purposes. For more information go to: http://www.law.cornell.edu/uscode/17/107.shtml. If you wish to use copyrighted material from this site for purposes of your own that go beyond 'fair use', you must obtain permission from the copyright owner.