An Appeal from Daniel Ellsberg to Support Bradley Manning
ANGLO AMERICA, MILITARISM, HISTORY, APPEALS, JUSTICE, 3 Jun 2013
Daniel Ellsberg - Bradley Manning Support Network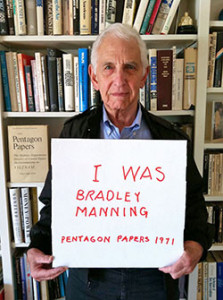 During the Vietnam War I worked in the Pentagon under Robert McNamara. In Vietnam, my background as a Marine officer allowed me to walk with the troops in combat and see the war up close. What I found was a costly, immoral war that could not be allowed to continue.
My decision to reveal the top secret Pentagon Papers to the American public was an act of conscience. These documents showed that we were in a destructive, wrongful war, and that we had entered that war under false pretenses. My hope was that, armed with this truth, the American people could act to end that war.
Today, a young soldier named Bradley Manning faces trial for a similar act of conscience, and he needs our help. In releasing documents and videos to the anti-secrecy website WikiLeaks, PFC Manning made an enormously positive impact on world events. He revealed the terrifying misdeeds by American and coalition forces, such as the 2007 Baghdad airstrike that targeted and killed at least 12 Iraqi civilians. He opened a new pathway for truth and justice to reach the world, perhaps preventing the next unjust war from ever beginning. He even helped inspire a new, global movement for openness and democracy, ringing out from Tahrir Square to Wall Street. To me, and many others, Bradley is a hero.
Yet, for his courage, Bradley faces life in prison — much like I did 40 years ago. And just as I was arrested and called a "traitor" by President Nixon, Bradley's charges include an accusation of "aiding the enemy," even though there is no evidence that any individual was endangered by his disclosures. Bradley, now 25 years old, is far too young, and has too much to offer this country to spend the rest of his life in prison. He needs our support.
That support has worked already. In March of 2011, I proudly got arrested along with 35 others at the Quantico Marine Base while Bradley was being held there in solitary confinement. Bradley had spent nine months in conditions considered torture by the UN. However, shortly after our protest, with your help, Bradley was transferred to much more humane conditions in Fort Leavenworth, Kansas.
Americans who care about the future of our country need to be involved in Bradley's defense. The defining issues of the 21st century, including the transparency and accountability of our government, are at stake. I believe history is on the side of those who seek to reveal the truth, not on the side of those who seek to conceal it. But, as my example shows, there are those in government who rely on crimes and secrets, who will seek to punish him and dissuade others from offering truth to the American people. Mercifully, the Vietnam War did end, and many consider the release of the Pentagon Papers to have helped. With your assistance, Bradley's impact can be even greater.
Help us continue to cover 100%
of Bradley's legal fees! Donate today.
The Bradley Manning Support Network has been key in coordinating nationwide support efforts for Bradley's defense, raising hundreds of thousands of dollars from thousands of people. We need money to support ongoing grassroots efforts—including rallies, petitions, and ads. Most importantly, however, we need to continue fully funding Bradley's legal defense efforts—including possible appeals, all the way up to the US Supreme Court, if need be.
The future of truth-telling is at stake, and a young man's selfless, heroic act of patriotism deserves our support.
P.S.:
If you are one of the 18,000 friends who have already given to Bradley's Defense Fund, thank you. On the eve of this historic trial, I'm asking you now to please give once more, and to give whatever you can. Your commitment, your creativity, and your energy remain vital, but right now, we need money as well. This is a crucial time in shaping support and public discourse in favor of Bradley.
______________________
The Bradley Manning Defense Fund, hosted by Courage to Resist in collaboration with the Bradley Manning Support Network, is responsible for 100% of Bradley's legal expenses. Courage to Resist is a program of the Alliance for Global Justice (AfGJ), a non-profi t organization under Section 501(c)(3) of the IRS Code. Donations are tax-deductible. For more information, contact Courage to Resist at 510-488-3559.
Go to Original – bradleymanning.org
DISCLAIMER: The statements, views and opinions expressed in pieces republished here are solely those of the authors and do not necessarily represent those of TMS. In accordance with title 17 U.S.C. section 107, this material is distributed without profit to those who have expressed a prior interest in receiving the included information for research and educational purposes. TMS has no affiliation whatsoever with the originator of this article nor is TMS endorsed or sponsored by the originator. "GO TO ORIGINAL" links are provided as a convenience to our readers and allow for verification of authenticity. However, as originating pages are often updated by their originating host sites, the versions posted may not match the versions our readers view when clicking the "GO TO ORIGINAL" links. This site contains copyrighted material the use of which has not always been specifically authorized by the copyright owner. We are making such material available in our efforts to advance understanding of environmental, political, human rights, economic, democracy, scientific, and social justice issues, etc. We believe this constitutes a 'fair use' of any such copyrighted material as provided for in section 107 of the US Copyright Law. In accordance with Title 17 U.S.C. Section 107, the material on this site is distributed without profit to those who have expressed a prior interest in receiving the included information for research and educational purposes. For more information go to: http://www.law.cornell.edu/uscode/17/107.shtml. If you wish to use copyrighted material from this site for purposes of your own that go beyond 'fair use', you must obtain permission from the copyright owner.