Ukraine: NATO's Eastern Prize
BALKANS AND EASTERN EUROPE, 23 Dec 2013
Wayne Madsen – Strategic Culture Foundation
Ever since the democracy manipulation efforts of international hedge fund brigand George Soros were joined with the artificial street revolution tactics of CIA tactician Gene Sharp to form the core strategy of the U.S. neo-conservative goal of imposing a «New American Century» on the entire world, Ukraine has served as the prize of America's interventionist foreign policy. And the neocons are still alive and active as ever inside Secretary of State John Kerry's State Department.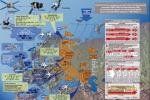 In the wake of what has been called the «Orange Revolution II» in Ukraine, Kerry's Assistant Secretary of State for European and Eurasian Affairs, Victoria Nuland, who previously served as Hillary Clinton's State Department mouthpiece, threatened sanctions against Ukraine's government led by President Viktor Yanukovych. Gazing over protesters in central Kyiv from his hotel window, Arizona's fanatical Republican Senator John McCain was licking his chops over the prospect of an anti-Russian Ukraine coming into being. McCain is a Cold War throwback and someone who remains mentally-unbalanced between flashbacks from a prisoner of war cell in Hanoi and to present-day reality.
Ukraine, which resisted efforts by the European Union to integrate it into Europe's banker-led federation of austerity and poverty, came into the EU's cross hairs after it abandoned an «Association Agreement» pact with the EU.  Instead, Kyiv opted for a more lucrative economic union with Russia. That move triggered off a mass street uprising in Kyiv's Maidan (Independence) Square that demanded the resignation of Ukraine's democratically-elected President and government.
The connections between the Kyiv uprising and the EU outside manipulators are so apparent, the Kyiv square that has become the «Tahrir Square» of Ukraine is called «Euromaidan.» The initial Tahrir Square uprising in Cairo, which overthrew Egyptian President Hosni Mubarak, was partly manipulated by Soros-financed and Sharp-influenced street demonstrators who took their cues from professional political agitators hastily flown into Egypt from the United States and Europe.
The latest professionally-agitated spectacle in Kyiv's was spearheaded by the same Soros/Sharp/National Endowment for Democracy/CIA hydra that saw the overthrow of Ukraine's government in 2004 in the so-called Orange Revolution. This time, not only is Ukrainian President Yanukovych, but ultimately Russian President Vladimir Putin, are the targets…
Nuland, who is married to the bloody-handed neocon archangel Robert Kagan, handed out snacks to protesters on Maidan Square. Imagine the reaction of the United States had a second-tier official of either the Russian or Chinese foreign ministry handed out food to Occupy Wall Street protesters in Washington and urged them to overthrow, by force if necessary, President Obama. Yet, that is exactly the scenario Nuland engaged in by supporting protesters in Maidan. Furthermore, she reprimanded Yanokovych for the heavy security presence in Maidan. Nuland and Kerry, who also upbraided Yanukovych, forgot the acts of police brutality committed by U.S. cops against occupy protesters, as well as a plan by the FBI to use snipers to assassinate the leaders of the group.
And Nuland and Kerry were very quiet when the Turkish government set loose riot police on peaceful protesters in Taksim Square in Istanbul earlier this year. After all, Turkey is a member of NATO and Ukraine, for the time being, is not.
For Gene Sharp and his two NGO «babies,» OTPOR and the Center for Applied Nonviolent Action and Strategies (CANVAS), vanguard organizations for organizing «rent-a-riot» anti-government protests around the globe, only nations resistant to the «New World Order» designs of Wall Street and the Pentagon are fair game for receiving cash, pamphlets, i-Pads and i-Phones, snacks, «themed revolution» placards and banners, restored national flags from times past, and other propaganda support. Recently, it was discovered, through leaked emails, that CANVAS founder Srdja Popovic was collaborating with the CIA- and Pentagon-linked intelligence firm STRATFOR, founded by George Friedman, whose ties to the U.S. and Israeli military-intelligence establishments are well known.
The «Orange Revolution II» in Kyiv has also received favorable press in central and eastern Europe and other parts of the world thanks to the auspices of various Soros press entities, including the Center for Advanced Media in Prague, a contrivance of the Media Development Loan Fund, a project of Soros' Open Society Institute.
And as with all fake «themed» revolutions, an «embattled martyr» is needed to rally the «rent-a-mob» to action. For the Ukrainian demonstrator, the «Maiden of Maidan» is Yulia Tymoshenko, the former Prime Minister who was imprisoned for corruption. Tymoshenko, who is now held at a clinic in Kharkiv, has become the «Aung San Suu Kyi» of Ukraine. But for many Ukrainians, the former Prime Minister is a shameless attention seeker whose trademark braided hair coif is derided by many Ukrainians as a «bagel» on top of her head.
For Orange Revolution II, the new «heroes» are ex-boxer and UDAR opposition leader Vitali Klitschko and far-right nationalist Oleh Tyahnybok. Their playbooks are written in Soros boiler shops in Prague, London, Washington, and New York and not in Kyiv.
Too many eastern and central European political activists have been «taken in» by the phony «democracy movements» funded by Soros. Needless to say, Soros is not someone who should be a spokesperson, let alone a funder, of what is supposed to be pro-democracy and pro-labor causes. Soros began his sordid career in hedge funds (a combination of a betting parlor and a Ponzi scheme contrivance) in the late 1960s under Georges Coulon Karlweis, the vice chairman of Banque Privée Edmond Rothschild in Geneva, Switzerland.
In the late 1960s, Karlweis provided Rothschild funds to Soros's Quota and Quantum hedge funds. Karlweis was the grand master of global financial chicanery and shysterism, having been linked to schemes of Bernard Cornfeld's International Overseas Services (IOS), the firm that Robert Vesco looted before he went into fugitive status. Karlweis also had his fingerprints on the antics of Michael Milken, Drexel Burnham Lambert's junk bond racketeer.
Soros has set himself up as a deep-pocketed prophet for liberal causes, yet he has diminished true progressives by spreading his ill-gotten profits through various front organizations. Soros's Open Society Institute has supported various pro-democracy front organizations but these groups serve the interests of shadowy global financial corporations, like the Blackstone Group.
Blackstone's former director was Lord Jacob Rothschild, Soros' old pal and financial colleague. Soros, through his bought-and-paid-for «progressive» media entities has managed to stifle any news that casts light on his own anti-democratic and anti-progressive activities in Europe and around the world.
In the first round of themed revolutions sponsored by Soros and his U.S. government collaborators and adhering to the Gene Sharp playbook, New World Order template governments were installed in Ukraine and Georgia. Headed by Viktor Yushchenko and Prime Minister Tymoshenko in Ukraine and Mikheil Saakashvili in Georgia, the pro-NATO and EU governments, installed amid a flurry of «pro-democracy» fanfare, soon descended into corrupt and nepotistic regimes. Tymoshenko and Saakashvili soon were associated with the mafia and corrupt business moguls. Tymoshenko's one-time business partner, former Ukrainian Prime Minister Pavlo Lazarenko, began serving a prison term in California for money laundering, corruption, and fraud. Meanwhile, Saakashvili became entangled with the mysterious «Golden Fleece» charity in Cyprus.
The neo-cons never recovered from the end of the Yushchenko-Tymoshenko regime because Soros and the themed revolution agitators had invested so much in the inserted government in anticipation of its NATO and EU membership. Yushchenko's wife, Kateryna Chumachenko Yushchenko, served in the Ronald Reagan White House. Chumachenko also worked in the White House Public Liaison Office where she conducted outreach to various right-wing and anti-communist exile groups in the United States, including the other bastion of the neo-cons, the Heritage Foundation.
Now, «Responsibility to Protect» interventionists in the Obama administration are trying to turn back the calendar to 2004 and bring about another non-democratic ouster of an elected government in Ukraine.
Across Ukraine, Moldova, Russia, Belarus, Romania, and other countries of eastern and central Europe, the new generation of Soros agitators and provocateurs are trying to launch another series of «themed revolutions.» This time the goal is, once again, prying Ukraine away from Russia and into the EU and NATO.
___________________________
Wayne Madsen: Investigative journalist, author and syndicated columnist. Has some twenty years experience in security issues. As a U.S. Naval Officer, he managed one of the first computer security programs for the U.S. Navy. He has been a frequent political and national security commentator on Fox News and has also appeared on ABC, NBC, CBS, PBS, CNN, BBC, Al Jazeera, and MS-NBC. He has been invited to testify as a witness before the US House of Representatives, the UN Criminal Tribunal for Rwanda, and an terrorism investigation panel of the French government. A member of the Society of Professional Journalists (SPJ) and the National Press Club. Lives in Washington, D.C.
Go to Original – strategic-culture.org
DISCLAIMER: The statements, views and opinions expressed in pieces republished here are solely those of the authors and do not necessarily represent those of TMS. In accordance with title 17 U.S.C. section 107, this material is distributed without profit to those who have expressed a prior interest in receiving the included information for research and educational purposes. TMS has no affiliation whatsoever with the originator of this article nor is TMS endorsed or sponsored by the originator. "GO TO ORIGINAL" links are provided as a convenience to our readers and allow for verification of authenticity. However, as originating pages are often updated by their originating host sites, the versions posted may not match the versions our readers view when clicking the "GO TO ORIGINAL" links. This site contains copyrighted material the use of which has not always been specifically authorized by the copyright owner. We are making such material available in our efforts to advance understanding of environmental, political, human rights, economic, democracy, scientific, and social justice issues, etc. We believe this constitutes a 'fair use' of any such copyrighted material as provided for in section 107 of the US Copyright Law. In accordance with Title 17 U.S.C. Section 107, the material on this site is distributed without profit to those who have expressed a prior interest in receiving the included information for research and educational purposes. For more information go to: http://www.law.cornell.edu/uscode/17/107.shtml. If you wish to use copyrighted material from this site for purposes of your own that go beyond 'fair use', you must obtain permission from the copyright owner.