(Castellano) BRICS, potente contrapeso a la hegemonía de Washington
ORIGINAL LANGUAGES, 21 Jul 2014
Ángel Guerra Cabrera - TeleSur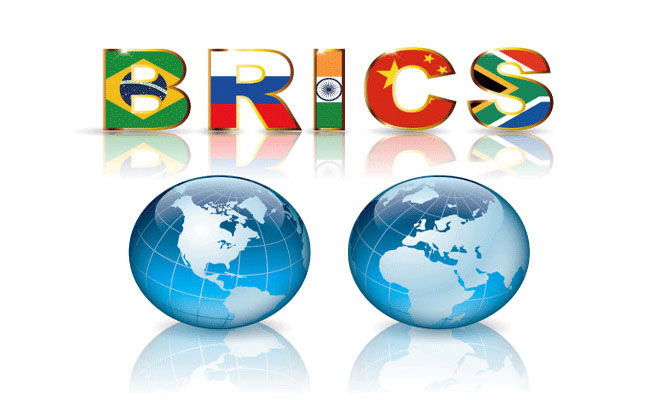 Varios acontecimientos acaecidos en los últimos días en nuestra región han dado un importante impulso a la nueva configuración geopolítica multipolar, gestada en América Latina y el Caribe desde la llegada de Hugo Chávez a la presidencia de Venezuela(1999). Propiciada a escala internacional por la irrupción de la locomotora económica china y la recuperación por Rusia –potencia nuclear de primer orden- de su independencia, unida a una brillante proyección geoeconómica de su riqueza en hidrocarburos y a sus eficaces contragolpes a Estados Unidos a partir de 2008 (derrota de Georgia apoyada por Washington y Tel Aviv). Igualmente, debido a la creciente coordinación de políticas entre ambas con los demás miembros de la Organización de Cooperación de Shanghái, de la Unión Económica Euroasiática y del BRICS.
Sobresale la celebración de la Sexta Cumbre del BRICS en Fortaleza, Brasil, con la asistencia de sus líderes: Dilma Roussef, presidenta del país anfitrión; Vladimir Putin, de Rusia; Narendra Modi, premier de India y los presidentes de China y Suráfrica Xi Jinping y Jacob Zuma. Cabe subrayar que estos países mantuvieron a flote la economía mundial después de la crisis de 2008 y que China ha sido palanca del crecimiento económico suramericano.
Con el tema "Crecimiento inclusivo: Soluciones Sustentables" la cumbre estremeció las finanzas internacionales con la creación del Nuevo Banco de Desarrollo(NBD) de los BRICS con un capital autorizado de 100 mil millones de dólares. La institución canalizará sus fondos principalmente a infraestructura de sus miembros sin las exigencias del Banco Mundial(BM) y el Fondo Monetario Internacional(FMI) contra el bienestar y la soberanía de los pueblos. Complementado por el Acuerdo Contingente de Reserva(ACR) por igual cantidad para proteger los sistemas financieros de sus miembros de la volatilidad especulativa. Dilma no descartó la posibilidad de que otros países de fuera del grupo puedan sacar provecho del apoyo económico del NBD y del ACR.
La cumbre acordó la Declaración de Fortaleza, que censura al BM y al FMI y cuestiona explícita o implícitamente los esquemas ideológicos, económicos y políticos instaurados en el mundo a consecuencia del Consenso de Washington y del ciclo de guerras iniciado con las ocupaciones estadunidenses de Afganistán e Irak. Aboga por un mundo de inclusión y paz, donde impere el diálogo, la solución política de los conflictos y el respeto a las soberanías nacionales sobre la base del derecho internacional y –en obvia alusión a Estados Unidos- condena las acciones unilaterales que "pueden beneficiar al que las realiza pero perjudican a la gran mayoría".
Aunque no se refiere directamente a la actual agresión israelí contra Gaza, toma una postura opuesta a la de Tel Aviv, Washington y su comparsa europea en el conflicto palestino-israelí al expresar que debe solucionarse con base en las resoluciones de la ONU, en el respeto a las fronteras existentes en 1967 y considera un impedimento para ello la construcción de nuevos asentamientos judíos en los territorios ocupados por Israel.
Otro hecho de gran relevancia de esta cumbre es la participación en su tercer día de sesiones, esta vez en Brasilia, de los países miembros de UNASUR, mucho más cuando Putin se había pronunciado víspera de su viaje a la región "por una América Latina unida, sostenible e independiente", añadiendo antes de iniciarse la cita que los Brics buscarán "evitar una cacería de países que discrepan de Estados Unidos".
La gira latinoamericana de Putin merece capítulo aparte por su tónica amistosa y contundentes resultados: condonación de la abultada deuda de Cuba con la ex URSS y concreción de 10 convenios de cooperación junto a fuertes inversiones en petróleo de aguas profundas y en varios sectores estratégicos de la economía cubana; muy importantes acuerdos con Brasil y Argentina, todos también en sectores estratégicos como la energía nuclear, que impulsarán el desarrollo económicos de ambos países. Existe justificada expectación con las inminentes visitas oficiales del líder chino Xi Jinping a Brasil, Argentina, Venezuela y Cuba así como su reunión con el cuarteto de la CELAC.
Incluyo en este balance la exitosa organización por Brasil de la Copa Mundial de Futbol, en la que además de superarse los ingresos esperados por turismo no se produjo ninguno de los dramáticos escenarios vaticinados por la campaña mediática imperialista en contubernio con la derecha brasileña.
Go to Original – telesurtv.net
DISCLAIMER: The statements, views and opinions expressed in pieces republished here are solely those of the authors and do not necessarily represent those of TMS. In accordance with title 17 U.S.C. section 107, this material is distributed without profit to those who have expressed a prior interest in receiving the included information for research and educational purposes. TMS has no affiliation whatsoever with the originator of this article nor is TMS endorsed or sponsored by the originator. "GO TO ORIGINAL" links are provided as a convenience to our readers and allow for verification of authenticity. However, as originating pages are often updated by their originating host sites, the versions posted may not match the versions our readers view when clicking the "GO TO ORIGINAL" links. This site contains copyrighted material the use of which has not always been specifically authorized by the copyright owner. We are making such material available in our efforts to advance understanding of environmental, political, human rights, economic, democracy, scientific, and social justice issues, etc. We believe this constitutes a 'fair use' of any such copyrighted material as provided for in section 107 of the US Copyright Law. In accordance with Title 17 U.S.C. Section 107, the material on this site is distributed without profit to those who have expressed a prior interest in receiving the included information for research and educational purposes. For more information go to: http://www.law.cornell.edu/uscode/17/107.shtml. If you wish to use copyrighted material from this site for purposes of your own that go beyond 'fair use', you must obtain permission from the copyright owner.