NBC News Pulls Veteran Reporter from Gaza after Witnessing Israeli Attack on Children
MEDIA, 21 Jul 2014
Glenn Greenwald – The Intercept
17 Jul 2014 – Ayman Mohyeldin, the NBC News correspondent who personally witnessed yesterday's killing by Israel of four Palestinian boys on a Gazan beach and who has received widespread praise for his brave and innovative coverage of the conflict, has been told by NBC executives to leave Gaza immediately. According to an NBC source upset at his treatment, the executives claimed the decision was motivated by "security concerns" as Israel prepares a ground invasion, a claim repeated to me by an NBC executive. But late yesterday, NBC sent another correspondent, Richard Engel, along with an American producer who has never been to Gaza and speaks no Arabic, into Gaza to cover the ongoing Israeli assault (both Mohyeldin and Engel speak Arabic).
Mohyeldin is an Egyptian-American with extensive experience reporting on that region. He has covered dozens of major Middle East events in the last decade for CNN, NBC and Al Jazeera English, where his reporting on the 2008 Israeli assault on Gaza made him a star of the network. NBC aggressively pursued him to leave Al Jazeera, paying him far more than the standard salary for its on-air correspondents.
Yesterday, Mohyeldin witnessed and then reported on the brutal killing by Israeli gunboats of four young boys as they played soccer on a beach in Gaza City. He was instrumental, both in social media and on the air, in conveying to the world the visceral horror of the attack.
Mohyeldin recounted how, moments before their death, he was kicking a soccer ball with the four boys, who were between the ages of 9 and 11 and all from the same family. He posted numerous chilling details on his Twitter and Instagram accounts, including the victims' names and ages, photographs he took of their anguished parents, and video of one of their mothers as she learned about the death of her young son. He interviewed one of the wounded boys at the hospital shortly before being operated on. He then appeared on MSNBC's All In with Chris Hayes, where he dramatically recounted what he saw.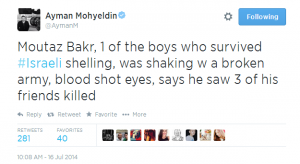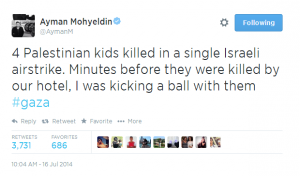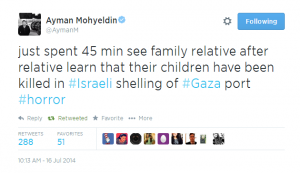 Despite this powerful first-hand reporting – or perhaps because of it – Mohyeldin was nowhere to be seen on last night's NBC Nightly News broadcast with Brian Williams. Instead, as Media Bistro's Jordan Chariton noted, NBC curiously had Richard Engel – who was in Tel Aviv, and had just arrived there an hour or so earlier – "report" on the attack. Charlton wrote that "the decision to have Engel report the story for 'Nightly' instead of Mohyeldin angered some NBC News staffers."
Indeed, numerous NBC employees, including some of the network's highest-profile stars, were at first confused and then indignant over the use of Engel rather than Mohyeldin to report the story. But what they did not know, and what has not been reported until now, is that Mohyeldin was removed completely from reporting on Gaza by a top NBC executive, David Verdi, who ordered Mohyeldin to leave Gaza immediately.
Over the last two weeks, Mohyeldin's reporting has been far more balanced and even-handed than the standard pro-Israel coverage that dominates establishment American press coverage; his reports have provided context to the conflict that is missing from most American reports and he avoids adopting Israeli government talking points as truth. As a result, neocon and "pro-Israel" websites have repeatedly attacked him as a "Hamas spokesman" and spouting "pro-Hamas rants."
Last week, as he passed over the border from Israel, he said while reporting that "you can understand why some human rights organizations call Gaza 'the world's largest outdoor prison,'"; he added: "One of the major complaints and frustrations among many people is that this is a form of collective punishment. You have 1.7 million people in this territory, now being bombarded, with really no way out."
Gazans may have no way out of Gaza, but at this point, Mohyeldin seems to have no way back in. After several requests, NBC executives have not yet provided any on-the-record statements; they will be added if provided.
Andrew Fishman contributed reporting to this story.
UPDATE 18 Jul 2014: The New York Times' television reporter just reported on Twitter that NBC has "reversed its decision" and is now sending Mohyeldin back to Gaza as soon as possible: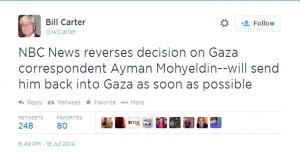 NBC's statement states: "As with any news team in conflict zones, deployments are constantly reassessed. We've carefully considered our deployment decisions and we will be sending Mohyeldin back to Gaza over the weekend." About that, CNN's media reporter Brian Stelter tweeted: "My read of NBC's statement: an about-face that comes close to saying 'we made a mistake.'" Much more about this on @CNNReliable on Sunday.)" Meanwhile, Mohyeldin himself tweeted the following: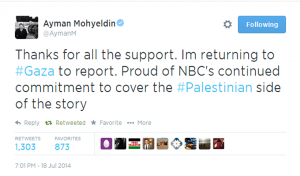 _________________________
Glenn Greenwald is a journalist, constitutional lawyer, commentator, and author of three New York Times best-selling books on politics and law. His fifth book, No Place to Hide, about the U.S. surveillance state and his experiences reporting on the Snowden documents around the world, will be released in April 2014. Prior to his collaboration with Pierre Omidyar, Glenn's column was featured at Guardian US and Salon. He was the debut winner, along with Amy Goodman, of the Park Center I.F. Stone Award for Independent Journalism in 2008, and also received the 2010 Online Journalism Award for his investigative work on the abusive detention conditions of Chelsea Manning. For his 2013 NSA reporting, he received the Gannett Foundation award for investigative journalism and the Gannett Foundation watchdog journalism award; the Esso Premio for Excellence in Investigative Reporting in Brazil (the first non-Brazilian to win), and the Electronic Frontier Foundation's Pioneer Award. Along with Laura Poitras, Foreign Policy magazine named him one of the top 100 Global Thinkers for 2013. He lives in Rio, Brazil.
Go to Original – firstlook.org
DISCLAIMER: The statements, views and opinions expressed in pieces republished here are solely those of the authors and do not necessarily represent those of TMS. In accordance with title 17 U.S.C. section 107, this material is distributed without profit to those who have expressed a prior interest in receiving the included information for research and educational purposes. TMS has no affiliation whatsoever with the originator of this article nor is TMS endorsed or sponsored by the originator. "GO TO ORIGINAL" links are provided as a convenience to our readers and allow for verification of authenticity. However, as originating pages are often updated by their originating host sites, the versions posted may not match the versions our readers view when clicking the "GO TO ORIGINAL" links. This site contains copyrighted material the use of which has not always been specifically authorized by the copyright owner. We are making such material available in our efforts to advance understanding of environmental, political, human rights, economic, democracy, scientific, and social justice issues, etc. We believe this constitutes a 'fair use' of any such copyrighted material as provided for in section 107 of the US Copyright Law. In accordance with Title 17 U.S.C. Section 107, the material on this site is distributed without profit to those who have expressed a prior interest in receiving the included information for research and educational purposes. For more information go to: http://www.law.cornell.edu/uscode/17/107.shtml. If you wish to use copyrighted material from this site for purposes of your own that go beyond 'fair use', you must obtain permission from the copyright owner.