(Castellano) Estado, monopolio de la violencia y legitimidad
ORIGINAL LANGUAGES, 1 Dec 2014
27 nov 2014 – Max Weber afirmó que el Estado ejerce el monopolio de la violencia por definición. Pero añadía que esa facultad debe cumplirse a través de un proceso "de legitimación", que en el caso de las monarquías absolutas es aceptada por los subordinados como derecho divino; pero también puede provenir de un liderazgo carismático (los subordinados aceptan el poder basándose en la santidad, heroísmo o ejemplaridad de quien lo ejerce)  o de una legitimidad racional (los subordinados aceptan el poder de acuerdo con motivaciones objetivas e impersonales) que deviene en sinónimo de legalidad.  De una manera sencilla y más de un siglo antes, el lúcido Rousseau establece que la legitimidad  la otorga la "voluntad general" de los sometidos al poder. Versión que se aviene con el concepto moderno de democracia como gobierno "del pueblo, por el pueblo y para el pueblo", feliz definición de Abraham Lincoln.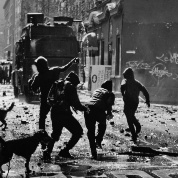 Lo que ocurre con estas definiciones es que flotan en el aire si no se considera al Estado como portador del interés de las clases sociales dominantes.
En América Latina tenemos gobiernos de orientación popular y política exterior independiente de Washington, que en distintos grados representan y defienden los intereses de las clases populares. Entre ellos Cuba y los demás estados integrantes del Alba han avanzado considerablemente en instituir la participación popular en la toma de decisiones sobre políticas públicas. Pero también los gobiernos de Argentina, Uruguay y Brasil escuchan al pueblo y tratan de abrirle canales de participación en las decisiones.
Mientras tanto, México, Colombia, Perú y Chile, miembros de la Alianza del Pacífico, se reconocen como aliados de Estados Unidos y su política exterior e interior responde, aunque no siempre totalmente, a los dictados de Washington.
En Chile, aunque se mantienen en lo esencial las políticas neoliberales en la esfera económica y no se reconocen sus derechos al pueblo mapuche, la presidenta Bachelet trata de acercarse más al proceso de unidad latino-caribeño y de dar repuesta al formidable movimiento estudiantil y popular a favor de la educación pública y gratuita y en contra de la hiriente desigualdad social.
El gobierno de derecha de Santos en Colombia debe su elección al apoyo de la izquierda y del movimiento popular en virtud de su compromiso con el proceso de paz en contra de la voluntad del feroz sector oligárquico encabezado por Álvaro Uribe y apoyado por la extrema derecha yanqui.  Si el proceso de paz llegara a buen puerto implicará un empoderamiento de los sectores más conscientes, que seguramente presionarán para debilitar o abrogar el tratado de libre comercio con Estados Unidos, impulsar la soberanía alimentaria, la vigencia de los derechos políticos y sociales y reclamar participación en la decisión del destino del país.
En México se observa una profundización de las políticas neoliberales que privatizaron el enorme patrimonio público y crearon una rapaz plutocracia cuya única divisa es la ganancia, empobrecieron a más de la mitad de la población, anularon importantes derechos garantizados por la Constitución de 1917 y generalizan un clima de extrema violencia, corrupción e impunidad que ha llevado a una insondable crisis de legitimidad de todas las instituciones del Estado, la mayor desde los albores de la Revolución de 1910.
Aquellas lacras no son nuevas pero el neoliberalismo las ha catalizado exponencialmente al expulsar a la población del campo hacia Estados Unidos o las ciudades, privar de la oportunidad de estudiar y trabajar a generaciones enteras de jóvenes,  y desencadenar una guerra, supuestamente contra el narco, pero cuya víctima principal es el pueblo. Mientras tanto, la droga continúa fluyendo eficientemente hacia el mercado estadunidense y de allá siguen llegando puntualmente las armas con que se mata a decenas de miles de mexicanos, inocentes en su mayoría. El ecocidio avanza a la par que la minería y las nuevas concesiones a las transnacionales.
La tragedia de Iguala, con todo y lo indignante y doloroso que resultan sus seis muertos y 43 desaparecidos ha venido a confrontar a la sociedad con la realidad de que los mencionados procesos llegaron a su punto crítico. La digna, valiente y unida actitud de los padres de los 43 ha actuado como desencadenante de una acumulación de sentimientos y aspiraciones de amplísimos sectores del pueblo, que estaban madurando, pugnando por salir a flote, y de repente han encarnado en la conciencia social.
_____________________________
Angel Guerra – Latinoamericanista y analista internacional, articulista del diario mexicano La Jornada. Invitado frecuente en teleSUR. Fue director del diario Juventud Rebelde (1968-71), de la revista Bohemia (1971-1980) y de otras publicaciones cubanas de circulación nacional.
Go to Original – telesurtv.net
DISCLAIMER: The statements, views and opinions expressed in pieces republished here are solely those of the authors and do not necessarily represent those of TMS. In accordance with title 17 U.S.C. section 107, this material is distributed without profit to those who have expressed a prior interest in receiving the included information for research and educational purposes. TMS has no affiliation whatsoever with the originator of this article nor is TMS endorsed or sponsored by the originator. "GO TO ORIGINAL" links are provided as a convenience to our readers and allow for verification of authenticity. However, as originating pages are often updated by their originating host sites, the versions posted may not match the versions our readers view when clicking the "GO TO ORIGINAL" links. This site contains copyrighted material the use of which has not always been specifically authorized by the copyright owner. We are making such material available in our efforts to advance understanding of environmental, political, human rights, economic, democracy, scientific, and social justice issues, etc. We believe this constitutes a 'fair use' of any such copyrighted material as provided for in section 107 of the US Copyright Law. In accordance with Title 17 U.S.C. Section 107, the material on this site is distributed without profit to those who have expressed a prior interest in receiving the included information for research and educational purposes. For more information go to: http://www.law.cornell.edu/uscode/17/107.shtml. If you wish to use copyrighted material from this site for purposes of your own that go beyond 'fair use', you must obtain permission from the copyright owner.