(Português) Guerra sem fim no Oriente Médio
ORIGINAL LANGUAGES, 1 Dec 2014
Reginaldo Nasser, Fórum – TRANSCEND Media Service
De certa forma, pode-se argumentar que não houve uma série de guerras no Oriente Médio durante esse período de 40 anos, mas sim uma única e longa guerra.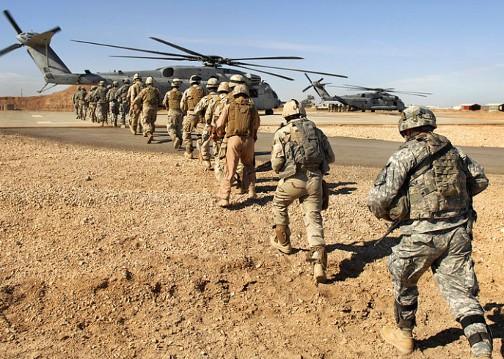 Vocês sabem qual pais é um grande produtor de petróleo, vizinho de um membro da Otan, onde há militantes muito bem armados com histórico de práticas de execução, extorsão e decapitação de pessoas? Nesse país também está em marcha uma sistemática campanha contra repórteres, além de milhares de pessoas escravizadas, tráfico de mulheres e uma série de ações de intimidação nas comunidades nativas. Quem pensou na Síria, Iraque e no grupo Isis errou, pois estamos falando do México. Além disso, os cartéis mexicanos não só já realizaram ataques e assassinatos dentro dos EUA, mas já mataram mais cidadãos norte-americanos dentro dos próprios EUA do que os atentados terroristas no dia 11 de Setembro.
Apesar de tudo isso, é o Isis que representa "um claro e real perigo "para os EUA, de acordo com general Martin Dempsey, chefe do Estado-maior, que acrescentou ser necessário formar uma coalizão internacional para enfrentá-los. O secretário de Defesa Chuck Hagel afirmou ainda que o Isis representa uma ameaça superior à de grupos como a al-Qaeda, e acredita que combatentes estrangeiros com passaportes ocidentais poderiam realizar ataques em qualquer lugar do mundo.
De acordo com uma pesquisa realizada pelo Washington Post-ABC News no mês de outubro, 90% dos norte-americanos avaliaram o Isis como uma séria ameaça aos interesses vitais dos EUA. Esse estado de espírito foi muito bem orquestrado pelo governo e mídia. Uma pesquisa realizada pela FAIR (o grupo de verificação da mídia nacional) sobre os principais programas de debates, mesas-redondas e entrevistas na TV entre os dias 7 a 21 de setembro (quando teve inicio exposição dos vídeos de decapitações) avaliou que, do total de 205 fontes que apareceram em programas discutindo opções militares na Síria e no Iraque, apenas seis dessas pessoas expressaram oposição à intervenção militar dos EUA. Listas de convidados foram constituídas, em sua grande maioria por funcionários e ex-funcionários da Casa Branca, bem como por oficiais militares ligados ao Pentágono. (No Debate and the New War).
Essa percepção de que o Isis representa uma "ameaça existencial" permitiu, por sua vez, que o presidente Barack Obama solicitasse ao Congresso o montante de 5,6 bilhões de dólares para o inicio de uma nova guerra liderada pelos EUA no Iraque e na Síria. Assim, a Síria poderá tornar-se o 14º país islâmico que as forças dos EUA já invadiram, ocuparam ou bombardearam, e em que os soldados norte-americanos mataram ou foram mortos desde 1980. São eles: Irã (1980, 1987-1988), Líbia (1981, 1986, 1989, 2011), Líbano (1983), Kuwait (1991), Iraque (1991-2011, 2014-), Somália (1992-1993, 2007-), Bósnia (1995), Arábia Saudita (1991, 1996), Afeganistão (1998, 2001-), Sudão (1998), Kosovo (1999), Iêmen (2000, 2002-), Paquistão (2004-).
Como se sabe, em todas essas operações militares ocorre, previamente ou posteriormente, a montagem de uma enorme infraestrutura de guerra. As estimativas de gastos giram em torno de 10 trilhões de dólares ao longo das últimas quatro décadas com o argumento de combater ameaças e promover estabilidade no Grande Oriente Médio (America's Bases of War in the Greater Middle East. From Carter to the Islamic State 35 Years of Building Bases and Sowing Disaster By David Vine Global Research, November 17, 2014).
À medida que os EUA se tornam, cada vez mais, uma sociedade multicultural e plural, torna-se cada vez mais difícil moldar um consenso sobre questões que envolvam ações militares internacionais, exceto nas circunstâncias em que se configura a iminência de uma ameaça externa poderosa (real ou virtual). Nas últimas décadas, os policymakers e a mídia em geral nos EUA têm trabalhado para convencer a opinião publica de que supostas intencionalidades de determinados atores são uma ameaça real, independente de suas capacidades militares, e assim passaram a construir modelos explicativos sobre as causas da guerra. No nível coletivo, processos de percepção são compartilhados e comunicados para criar um estado de espírito coletivo de medo. Neste sentido, as ameaças são socialmente construídas por meio de articulações, públicas e privadas, entre especialistas, líderes políticos e militares. Por exemplo, quase não se fala de onde procede, nem muito menos quais são, os recursos e as reais capacidades militares do Isis, mas são repetidos à exaustão os vídeos de execuções e decapitações para impactar emocionalmente o público.
Como lembra o poeta Mia Couto, para fabricar armas, é preciso fabricar inimigos. Para produzir inimigos, é imperioso sustentar fantasmas. O que requer a construção e manutenção de enorme aparato de militares, jornalistas, acadêmicos que nos ensinam que, para enfrentarmos as ameaças globais, precisamos de mais exércitos, mais serviços secretos e a suspensão de direitos.
Sem dúvida que tudo isso faz parte da cultura do medo que sempre existiu nos EUA, é verdade, mas que se tornou onipresente e absoluto após o 11 de Setembro. Em maio de 2004, o procurador-geral dos EUA, John Ashcroft, alertou que terroristas poderiam "atacar em qualquer lugar, a qualquer momento, e com praticamente qualquer arma", sem, contudo, especificar sobre quem estava falando e quais eram as reais capacidades desse suposto grupo terrorista. Quando perguntaram ao então secretário de Defesa do governo Bush, Donald Rumsfeld, o que constituiria a vitória na guerra contra o terrorismo após os atentados do dia 11 de Setembro, ele respondeu que dever-se-ia convencer a opinião publica de que seria uma longa batalha. Não foi outra coisa o que disse, recentemente, uma das pessoas mais influentes em questões militares nos EUA, Leon Panetta, que já teve os cargos de chefe de Gabinete da Casa Branca na administração Clinton, diretor da CIA e secretário de Defesa na administração Obama. Em entrevista para oUSA Today advertiu que os norte-americanos precisam se preparar para uma "espécie de guerra dos 30 anos", que deveria se estender além do Isis, incluindo as ameaças emergentes na Nigéria, Somália, Iêmen, Líbia e em outros lugares.
De certa forma, pode-se argumentar que não houve uma série de guerras no Grande Oriente Médio durante esse período de 40 anos, mas sim uma única e longa guerra, uma guerra sem fim. Supondo que o Estado islâmico seja derrotado, algo bastante provável, podemos ter certeza que de as campanhas militares seguiram seu curso. Assim como até pouco tempo atrás a Al Qaeda era a maior ameaça nunca vista anteriormente, novas ameaças, tão ou mais poderosas que o Isis, serão construídas e, provavelmente, teremos o 15º pais islâmico a ser atacado, ou o retorno para algum campo de batalha de uma guerra considerada inacabada.
Podemos vislumbrar, ainda que remotamente, que essas guerras acabem algum dia? Para responder a uma questão como essa, só recorrendo à genialidade de Mia Couto. Os fantasmas vão morrer apenas quando morrer o medo, mas há quem tenha medo que o medo acabe. E não se iludam, são pessoas poderosas que colocam à sua disposição todos os recursos que possuem para que o medo permaneça.
__________________________
Reginaldo Nasser é professor do curso de Relações Internacionais da PUC-SP e do programa de Pós-Graduação San Tiago Dantas (Unesp, Unicamp e PUC-SP).
Artigo publicado originalmente na Revista Forum.
Go to Original – cartamaior.com.br
DISCLAIMER: The statements, views and opinions expressed in pieces republished here are solely those of the authors and do not necessarily represent those of TMS. In accordance with title 17 U.S.C. section 107, this material is distributed without profit to those who have expressed a prior interest in receiving the included information for research and educational purposes. TMS has no affiliation whatsoever with the originator of this article nor is TMS endorsed or sponsored by the originator. "GO TO ORIGINAL" links are provided as a convenience to our readers and allow for verification of authenticity. However, as originating pages are often updated by their originating host sites, the versions posted may not match the versions our readers view when clicking the "GO TO ORIGINAL" links. This site contains copyrighted material the use of which has not always been specifically authorized by the copyright owner. We are making such material available in our efforts to advance understanding of environmental, political, human rights, economic, democracy, scientific, and social justice issues, etc. We believe this constitutes a 'fair use' of any such copyrighted material as provided for in section 107 of the US Copyright Law. In accordance with Title 17 U.S.C. Section 107, the material on this site is distributed without profit to those who have expressed a prior interest in receiving the included information for research and educational purposes. For more information go to: http://www.law.cornell.edu/uscode/17/107.shtml. If you wish to use copyrighted material from this site for purposes of your own that go beyond 'fair use', you must obtain permission from the copyright owner.