(Português) Para Chomsky, na Casa Branca se articula o terror mundial
ORIGINAL LANGUAGES, 22 Dec 2014
Noam Chomsky, Outras Palavras - TRANSCEND Media Service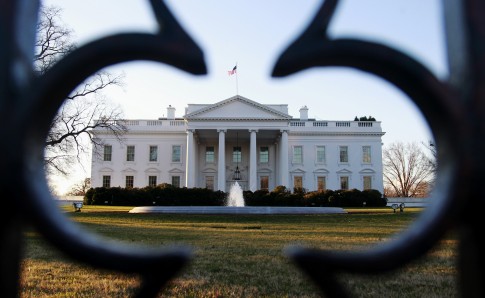 Intelectual dissidente analisa campanhas de sabotagem deflagradas pelos EUA contra Angola, Cuba e Nicarágua. E alerta: Washington continua a desestabilizar adversários.
"É oficial: os EUA são o maior Estado terrorista do mundo e se orgulham disso".
Essa deveria ter sido a manchete da notícia principal do New York Times no dia 15 de outubro, que foi polidamente intitulada "Os Estudos da CIA sobre ajuda secreta alimentam ceticismo sobre a ajuda aos rebeldes sírios". O artigo relata uma revisão da CIA sobre as operações secretas dos EUA para determinar sua efetividade. A Casa Branca concluiu que infelizmente os sucessos foram tão raros que é necessário repensar essa política.
O texto cita o Presidente Barack Obama, dizendo que ele solicitou à CIA que conduzisse a revisão para encontrar casos de "financiamentos e fornecimento de armas para grupos insurgentes em um país que realmente tenham funcionado. E eles não encontraram muitos". Por isso, Obama reluta em manter tais esforços.
O primeiro parágrafo do artigo do Times cita três grandes exemplos de "ajuda secreta": Angola, Nicarágua e Cuba. Na verdade, cada um desses casos foi uma grande operação terrorista conduzida pelos EUA. Angola foi invadida pela África do Sul, que, segundo Washington, defendia-se de um dos "maiores grupos terroristas" do mundo – o Congresso Nacional Africano, de Nelson Mandela.
Na época, o governo Reagan estava praticamente sozinho no seu apoio ao regime do apartheid, inclusive violando sanções do congresso para aumentar o comércio com seu aliado sul africano. Washington juntou-se à África do Sul para prover apoio crucial ao exército terrorista da Unita, chefiada por Jonas Savimbi, em Angola. Continuou a fazê-lo mesmo depois de Savimbi ser completamente derrotado em eleições livres cuidadosamente monitoradas, e da África do Sul retirar seu apoio. Savimbi era um "monstro cuja sede de poder trouxe uma miséria apavorante ao seu povo", nas palavras de Marrack Goulding, embaixador britânico em Angola.
As consequências foram horrendas. Um inquérito de 1989 da ONU estimou que os atos hostis praticados por sul-africanos provocaram 1,5 milhão de mortes nos países vizinhos, sem contar o que estava acontecendo internamente na África do Sul. Ao fim, forças cubanas contra-atacaram os agressores sul-africanos e os compeliram a se retirar da Namíbia, ilegalmente ocupada. Apenas os EUA continuaram a apoiar o monstro Savimbi.
Em Cuba, após a invasão frustrada da Baía dos Porcos em 1961, o Presidente John F. Kennedy lançou uma campanha assassina e destrutiva para levar "os terrores da terra" à ilha – nas palavras de um íntimo aliado de Kennedy, o historiador Arthur Schlesinger, em sua biografia semi-oficial de Robert Kennedy, a quem foi atribuída a responsabilidade pela guerra terrorista.
As atrocidades contra Cuba foram severas. Os planos eram de que o terrorismo culminasse em uma rebelião em outubro de 1962, que levaria a uma invasão estadunidense. Agora, estudos acadêmicos reconhecem que essa foi uma das razões pelas quais o primeiro-ministro russo Nikita Khruschev colocou mísseis em Cuba, iniciando uma crise que ficou perigosamente próxima de uma guerra nuclear. O secretário de Defesa dos EUA, Robert McNamara posteriormente admitiu que, se fosse uma liderança cubana na época, "teria esperado uma invasão dos EUA".
Os ataques terroristas americanos a Cuba continuaram por mais de 30 anos. O custo disso aos cubanos foi, é claro, muito grave. A contagem de vítimas, dificilmente vista nos EUA, foi relatada em detalhes pela primeira vez em um estudo do canadense Keith Bolender, "Vozes do Outro Lado: Uma História Oral do Terrorismo Contra Cuba", em 2010.
O preço em vidas de uma longa guerra terrorista foi ampliado por um embargo esmagador, que continua até hoje, a despeito do resto do mundo. Em 28 de outubro, a ONU, pela 23ª vez, endossou a "necessidade de dar um fim ao bloqueio econômico, comercial e financeiro imposto pelos Estados Unidos contra Cuba". A votação foi de 188 a 2 (EUA e Israel) com três abstenções, das dependências dos EUA nas Ilhas do Pacífico.
Existe hoje alguma oposição ao embargo em lugares importantes dos EUA, relata o ABC News, por que ele "não é mais útil" (citando o novo livro de Hillary Clinton, Hard Choices). O estudioso francês Salim Lamrani revisa os amargos custos aos cubanos em seu livro de 2013, A Guerra Econômica Contra Cuba.
Quase não é necessário mencionar Nicarágua. A guerra terrorista do presidente Ronald Reagan foi condenada pela Corte Internacional, que ordenou que os EUA encerrassem seu "uso de força ilícito" e pagassem reparações substantivas.
Washington respondeu aprofundando a guerra e vetando resolução do Conselho de Segurança da ONU de 1986, que chamava todos os Estados – significando os EUA – a observarem a lei internacional.
Outro exemplo de terrorismo foi lembrado em 16 de novembro, data do 25º aniversário do assassinato de seis padres jesuítas em São Salvador por uma unidade terrorista do exército salvadorenho, armada e treinada pelos EUA. Sob as ordens do alto comando militar, os soldados invadiram a Universidade Católica para assassinar os padres e qualquer testemunha – incluindo uma governanta e sua filha.
O evento marcou o fim das guerras terroristas dos EUA na América Central nos anos 80. Mas seus efeitos ainda estão nas primeiras páginas de hoje, nos relatos sobre a fuga de "imigrantes ilegais" — uma medida das consequências dessa carnificina. No entanto, eles são deportados dos EUA para sobreviverem, se puderem, nas ruínas dos seus países de origem.
Washington também emerge como o campeão mundial em gerar terror. O ex-analista da CIA Paul Pillar alerta que "o impacto gerador de ressentimentos dos EUA atinge" a Síria, onde talvez induza, no futuro,  as organizações do Jihad Jabhat al-Nusra e o Estado Islâmico a "reparar suas falhas no ano passado e fazer campanha em conjunto contra a intervenção dos EUA, pintando-a como uma guerra contra o Islã".
Essa é uma consequência já familiar das operações dos EUA, que ajudaram a espalhar o jihadismo — antes restrito a um reduto do Afeganistão, — para grande parte do mundo.
A manifestação do jihadismo mais alarmante hoje é o Estado Islâmico, ou ISIS, que estabeleceu seu califado assassino em grandes áreas do Iraque e da Síria.
"Penso que os Estados Unidos são um dos criadores chave dessa organização", relata o ex-analista da CIA, Graham Fuller, comentarista destacado sobre assuntos na região. "Os Estados Unidos não planejaram a formação do ISIS", acrescenta "mas suas intervenções destrutivas no Oriente Médio e a guerra do Iraque foram as causas básicas do nascimento do ISIS".
A isso nós podemos incluir a maior campanha terrorista do mundo: o projeto global de assassinato de "terroristas" de Obama. O "impacto gerador de ressentimento" desses drones e ataques de forças especiais deveriam ser conhecidos demais para requerer mais comentários. Esse é um registro a ser contemplado com certo pavor.
Tradução: Mariana Bercht
Go to Original – outraspalavras.net
DISCLAIMER: The statements, views and opinions expressed in pieces republished here are solely those of the authors and do not necessarily represent those of TMS. In accordance with title 17 U.S.C. section 107, this material is distributed without profit to those who have expressed a prior interest in receiving the included information for research and educational purposes. TMS has no affiliation whatsoever with the originator of this article nor is TMS endorsed or sponsored by the originator. "GO TO ORIGINAL" links are provided as a convenience to our readers and allow for verification of authenticity. However, as originating pages are often updated by their originating host sites, the versions posted may not match the versions our readers view when clicking the "GO TO ORIGINAL" links. This site contains copyrighted material the use of which has not always been specifically authorized by the copyright owner. We are making such material available in our efforts to advance understanding of environmental, political, human rights, economic, democracy, scientific, and social justice issues, etc. We believe this constitutes a 'fair use' of any such copyrighted material as provided for in section 107 of the US Copyright Law. In accordance with Title 17 U.S.C. Section 107, the material on this site is distributed without profit to those who have expressed a prior interest in receiving the included information for research and educational purposes. For more information go to: http://www.law.cornell.edu/uscode/17/107.shtml. If you wish to use copyrighted material from this site for purposes of your own that go beyond 'fair use', you must obtain permission from the copyright owner.