(Português) O Big Bang nunca existiu e o Universo nunca teve começo e nunca terá fim, dizem novos cálculos complexos
ORIGINAL LANGUAGES, 13 Apr 2015
Bruno Rizzato – Jornal Ciência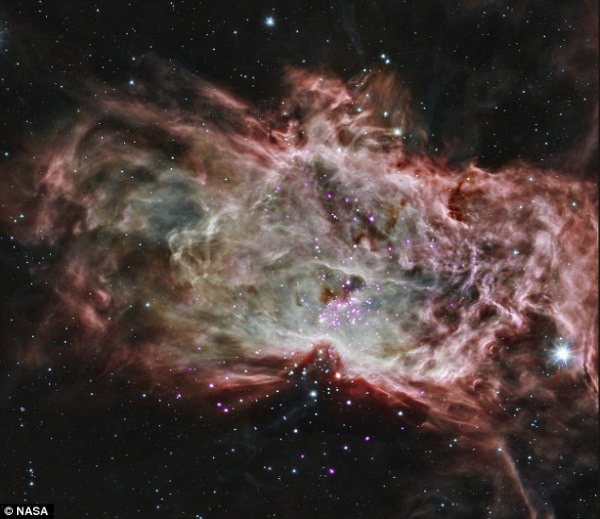 O nosso Universo, de acordo com as teorias de Einstein, possui cerca de 13,8 bilhões de anos de idade e foi formado a partir de um ponto infinitamente pequeno.
Enquanto a maioria das pessoas aceita este modelo, os cientistas ainda não conseguem explicar o que aconteceu dentro deste pequeno ponto ou o que veio antes dele.
Agora, dois físicos propuseram um novo modelo que acredita que o Big Bang, na verdade, nunca aconteceu e que o nosso Universo não tem começo nem fim.
"A matemática e a teoria do Big Bang, em si, se anulam por conta dos infinitos", disse Saurya Das, professor na Universidade de Lethbridge, no Canadá, em entrevista ao Dailymail. "Em outras palavras, a teoria prevê a sua própria morte. Ela também não explica onde esse estado inicial ocorreu", completa.
Para ajudar a resolver este problema, os cientistas combinaram teorias da relatividade geral, que descreve as forças em torno de nós através da mecânica quântica, que rege pequenos objetos. Eles começaram com equações criadas pelo físico David Bohm, que na década de 1950 tentou usar a teoria quântica no lugar da equação clássica para descrever o caminho mais curto entre dois pontos em uma superfície curva.
Então, combinando isso com uma equação feita pelo professor Amal Kumar Raychaudhuri, da Presidency University, em Calcutá, Índia, os cientistas descreveram um fluido de pequenas partículas que permeia o espaço. Este fluido é a versão quântica da gravidade, apelidada de gráviton pelo Professor Das e pelo coautor Ahmed Ali Farag, da Universidade de Benha.
Eles mostraram que, diferentemente das trajetórias clássicas – que são caminhos de partículas no futuro ou passado – as partículas quânticas podem nunca se encontrarem. "Podemos analisar que, já que diferentes pontos do Universo na verdade nunca convergiram no passado, não pode haver um começo", disse o Professor Das. "Durará para sempre. Também não terá um fim. Em outras palavras, não há nenhuma singularidade universal", completou.
Mas se não houve Big Bang, qual é a origem do nosso Universo? "O Universo poderia ter existido e durado para sempre. Ele poderia ter passado por ciclos, pequenos ou grandes. Ou poderia ter sido criado muito mais cedo", explicou Das. A teoria pode também vir a explicar a origem da matéria e da energia escura.
"Nós mostramos que um gigante Bose-Einstein de grávitons pode ter se formado muito cedo, ter durado para sempre, representando tanto a matéria quanto a energia escura", disse Das.
No final de 1990, os astrônomos descobriram que a expansão do Universo está acelerando devido a presença de uma energia escura. O modelo tem o potencial para isso, uma vez que o fluido cria força constante para fora, expandindo o espaço.
A massa de gráviton poderia fazer a sua densidade de fluido ter a mesma densidade observada do Universo de matéria escura. "É gratificante notar que tais correções simples podem, potencialmente, resolver tantos problemas de uma só vez", concluiu Das.
Go to Original – jornalciencia.com
DISCLAIMER: The statements, views and opinions expressed in pieces republished here are solely those of the authors and do not necessarily represent those of TMS. In accordance with title 17 U.S.C. section 107, this material is distributed without profit to those who have expressed a prior interest in receiving the included information for research and educational purposes. TMS has no affiliation whatsoever with the originator of this article nor is TMS endorsed or sponsored by the originator. "GO TO ORIGINAL" links are provided as a convenience to our readers and allow for verification of authenticity. However, as originating pages are often updated by their originating host sites, the versions posted may not match the versions our readers view when clicking the "GO TO ORIGINAL" links. This site contains copyrighted material the use of which has not always been specifically authorized by the copyright owner. We are making such material available in our efforts to advance understanding of environmental, political, human rights, economic, democracy, scientific, and social justice issues, etc. We believe this constitutes a 'fair use' of any such copyrighted material as provided for in section 107 of the US Copyright Law. In accordance with Title 17 U.S.C. Section 107, the material on this site is distributed without profit to those who have expressed a prior interest in receiving the included information for research and educational purposes. For more information go to: http://www.law.cornell.edu/uscode/17/107.shtml. If you wish to use copyrighted material from this site for purposes of your own that go beyond 'fair use', you must obtain permission from the copyright owner.