'They Hit Us, with Hammers, by Knife': Rohingya Migrants Tell of Horror at Sea
ASIA--PACIFIC, 25 May 2015
Up to 8,000 are believed to be stuck off Thai, Indonesian and Malaysian coasts, and those who made it to shore describe violence and starvation.
17 May 2015 – Crowded under tarpaulin tents strewn with rubbish and boxes of water, the Burmese and Bangladeshi migrants speak of horrors at sea: of murders, of killing each other over scarce supplies of food and water, of corpses thrown overboard.
"One family was beaten to death with wooden planks from the boat, a father, a mother and their son," says Mohammad Amin, 35. "And then they threw the bodies into the ocean."
Amin, an ethnic Rohingya Muslim, first boarded a boat from Burma three months ago. Now he is among 677 migrants who are being housed in a makeshift camp by the harbour in Langsa, Indonesia, after spending months in the Andaman Sea.
Getting to the camp was an epic struggle. As governments around the region have refused the migrants entry, and their navies have pushed them back, it was eventually down to Acehnese fishermen to rescue the boat on Friday, towing it to shore in Langsa.
But at least now they are on dry land. Between 6,000 and 8,000 more are believed to still be stuck off the coasts of Thailand, Indonesia and Malaysia, with limited water and food, in a situation the UN has warned could fast become a "massive humanitarian crisis" because no government in the region is willing to take them in.
Mohammad Rafique, 21, says that when the boat he was on first floated into Indonesian waters last week, the navy gave them provisions of food and water. "After that they asked us, 'Where you go now?'" he explains, "We said, 'We are going to Malaysia.' The Indonesian navy said, 'Go to Malaysia,' and they take us to the Malaysian border."
In Malaysia they were met with the same response.
Out back in the hospital wing in Langsa, a row of men lie on stretchers with their emaciated limbs hooked up to intravenous drips. The back of one shirtless man is marked with deep red lashes.
"They hit us, with hammers, by knife, cutting," says Rafique, recalling onboard violence between the different groups of migrants. He presents his only possession – a Rohingya identity card from the United Nations high commission for refugees in Bangladesh.
Many of those on the ships are from northern Burma's persecuted Rohingya minority, who have been denied citizenship and voting rights, even though many have lived in the country for generations.
In the majority Buddhist nation, the Rohingya have continued to flee sectarian violence and poor conditions in refugee camps.
Many do so by boat using people smugglers but a recent crackdown by the Thai government is believed to have led to some boats – and their human cargo – being abandoned at sea.
In Langsa, Amin, a former farmer in Burma, tells of how his village was set alight in a violent attack several years ago. His mother, he says, was burned to death because she was too old to escape.
Migrants stranded at sea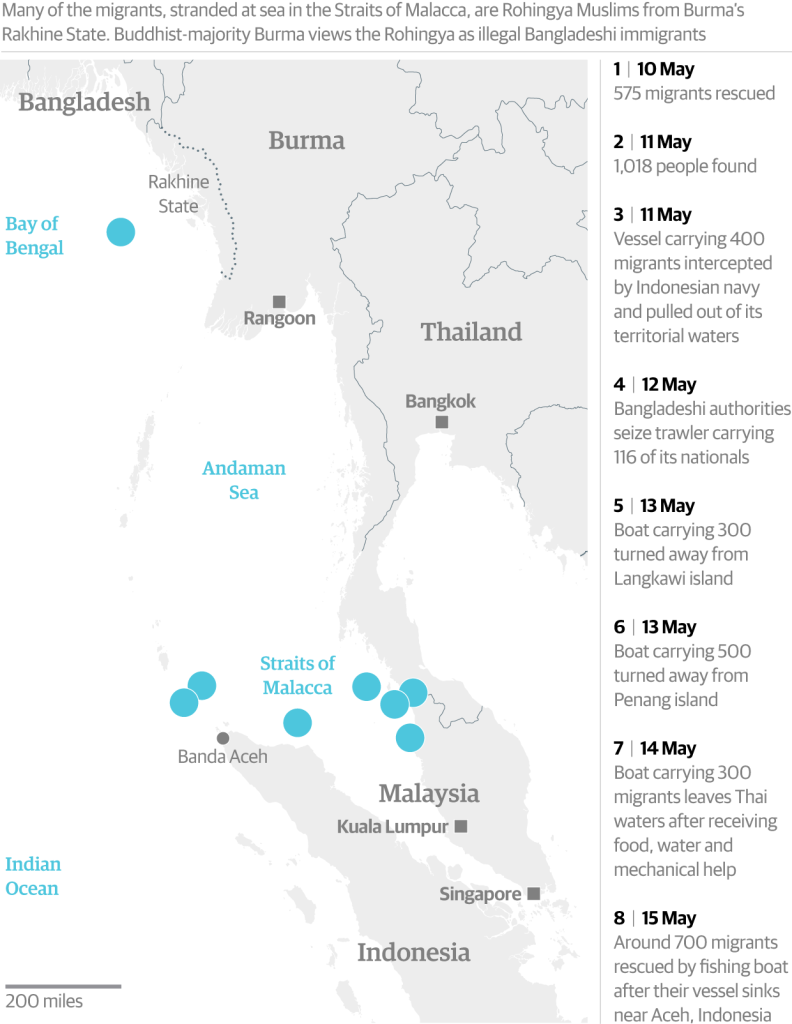 "The government is torturing us," says Zukura Khotun, a mother of three who fled Burma's Rakhine state and boarded a boat in the hope she could be reunited with her husband in Malaysia.
Others in the camp from Bangladesh are also quick to identify themselves as ethnic Rohingya Muslims, some saying they were travelling to Malaysia for work, to get married or to join their family members.
No one can say exactly how many people passed away on board. Rafique, who says he spent his whole life in a refugee camp in Bangladesh until starting on the sea voyage, claims that up to 200 people died during the journey.
But it is impossible to immediately verify or corroborate their stories.
Sayed Oestman, head of the Langsa development committee says there are still palpable tensions between the two groups of migrants who are divided at the camp after the vicious fighting at sea.
"So far we hear the Bangladeshi, they are the workers planning to go to Malaysia," says Oestman, "The Rohingyas from Burma are saying they are fleeing conflict in their country."
More than 1,000 people have arrived on Aceh's shores on dilapidated vessels over the past week.
Inside the tents at Langsa women nurse their children while sipping water or small cartons of warm Milo in the afternoon heat as wafts of burning plastic blow over them from the fires being used to burn rubbish.
Indonesian volunteers are tacking up toilet cubicles out of thin plywood and a mountain of second-hand clothes has been dumped in the grass. Oestman says there is an urgent need for medication and vitamins at the camp. Twenty-five migrants have been admitted to the local general hospital.
Down the mangrove-lined street that leads to the camp, curious and concerned locals have gathered at the gate to try and get a glimpse of the new arrivals.
Some are allowed through to deliver cartons of eggs and instant noodles.
Langsa resident Ismail Hanifah, 62, is visiting for the second day to check on the plight of his fellow Muslims.
"Yesterday when I saw them they were like animals, no clothes, no nothing," explains Hanifah, "I said Assalamualaikum to them and they were all crying. They were so hungry. I heard from someone from Bangladesh that they drank their own urine to survive."
Concrete details about the migrants' time at sea are hard to come by at this stage. But most in Langsa tell of being transported in small boats from Burma and Bangladesh before being herded onto a larger vessel docked off Ranong in Southern Thailand.
Some waited on for up to two months there, others just a week, for the boat, crewed by Thai and Burmese nationals, to fill up before they could leave. Most paid between 5,000 and 8,000 Malaysian Ringgit to agents of people smugglers for the journey.
For 25 days they were at sea, surviving on minimal supplies given to them from the Indonesian and Malaysian navies after the captain and crew deserted them. Amin says they slept crouched and huddled next to each other on the ship and tried to save supplies for the women and children on board.
But the migrants were desperate, thirsty and starving, and fighting broke out on board.
"When the captain and the crew escaped, deserted us, I was sobbing," explains Amin, "One man from Bangladesh said 'the captain has run away, we must pray to Allah' but there was not enough room for us to kneel and pray."
Go to Original – theguardian.com
DISCLAIMER: The statements, views and opinions expressed in pieces republished here are solely those of the authors and do not necessarily represent those of TMS. In accordance with title 17 U.S.C. section 107, this material is distributed without profit to those who have expressed a prior interest in receiving the included information for research and educational purposes. TMS has no affiliation whatsoever with the originator of this article nor is TMS endorsed or sponsored by the originator. "GO TO ORIGINAL" links are provided as a convenience to our readers and allow for verification of authenticity. However, as originating pages are often updated by their originating host sites, the versions posted may not match the versions our readers view when clicking the "GO TO ORIGINAL" links. This site contains copyrighted material the use of which has not always been specifically authorized by the copyright owner. We are making such material available in our efforts to advance understanding of environmental, political, human rights, economic, democracy, scientific, and social justice issues, etc. We believe this constitutes a 'fair use' of any such copyrighted material as provided for in section 107 of the US Copyright Law. In accordance with Title 17 U.S.C. Section 107, the material on this site is distributed without profit to those who have expressed a prior interest in receiving the included information for research and educational purposes. For more information go to: http://www.law.cornell.edu/uscode/17/107.shtml. If you wish to use copyrighted material from this site for purposes of your own that go beyond 'fair use', you must obtain permission from the copyright owner.